The Worm at the Core by Sheldon Solomon
Author:Sheldon Solomon , Date: March 23, 2016 ,Views: 2663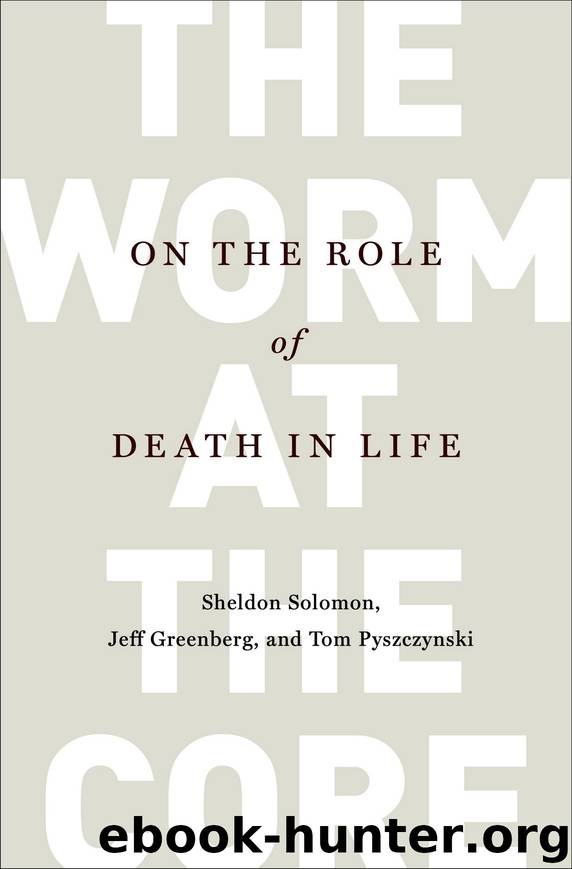 Author:Sheldon Solomon
Language: eng
Format: epub
Publisher: Random House Publishing Group
Published: 2015-05-11T16:00:00+00:00



SEPTEMBER 11, 2001: THE LASH AND THE BACKLASH
The September 11, 2001, al-Qaeda attacks on the Pentagon and the World Trade Center and ensuing events poignantly illustrate how death fears provoke reciprocal cycles of hatred and violence in pursuit of a heroic triumph over evil.
In the 1980s, Osama bin Laden's goals were allegedly political. He wanted to dislodge Russian troops from Afghanistan and subsequently to evict American troops from Muhammad's "holy land" of Saudi Arabia. However, in 1998, bin Laden joined radical Islamic clerics declaring jihad against America, in part to avenge humiliating affronts to Islam dating back to the Crusades in the eleventh century and the dissolution of the Ottoman Empire in 1918:
The United States has been occupying the lands of Islam in the holiest of places, the Arabian Peninsula, plundering its riches, dictating to its rulers, humiliating its people, terrorizing its neighbors and turning its bases in the Peninsula into a spearhead through which to fight the neighboring Muslim peoples. We…call on every Muslim who…wishes to be rewarded to comply with Allah's order to kill the Americans and plunder their money…. We also call on Muslim ulema, leaders, youths, and soldiers to launch the raid on Satan's U.S. troops and the devil's supporters allying with them….
Download


Copyright Disclaimer:
This site does not store any files on its server. We only index and link to content provided by other sites. Please contact the content providers to delete copyright contents if any and email us, we'll remove relevant links or contents immediately.