The End of Eddy by Édouard Louis
Author:Édouard Louis , Date: May 21, 2017 ,Views: 1552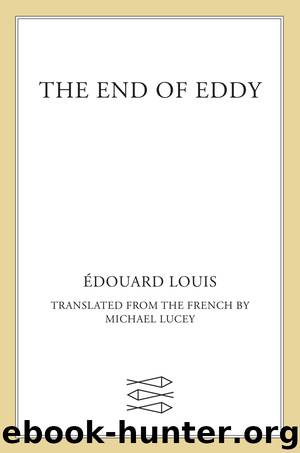 Author:Édouard Louis
Language: eng
Format: epub
Publisher: Farrar, Straus and Giroux



My Other Father
Here is an anecdote my mother told me. It was during one of the village dances—outlandishly named dances that would take place in the village hall a couple of times a year, like "Tartiflette and Eighties Night," or "Cassoulet and Johnny Look-alikes Night." There was a gay man, a brave guy, who had made the choice to live his life openly. He would go to these dances with other men he had met, probably at some of the cruising spots found in the area, deserted parking lots or seedy gas stations. All the boys from the village would also turn up, gangs of buddies who came to drink, have fun, sing, and try to pick up the very small number of girls who weren't already taken, who didn't already have children. What with the alcohol and group dynamics, the boys started bothering the gay man, bumping into him with their shoulders, giving him hostile looks, So what's your story, you're a fag, right, you like sucking dick, stop looking at me like that or I'm gonna punch your face in. My father came over, having heard everything. He was really angry, his jaw clenched, and he said, Leave him the fuck alone, you shitheads, you think you're funny calling him names, so he's a fag, why the fuck should you care? What's it got to do with you? He told them to go home Enough of your bullshit. He came this close to beating them up himself my mother concluded.
*   *   *
My mother told me another story from my father's life when, around the age of twenty, he had decided to quit the factory, to give up everything and head for the South of France. He told his boss to go fuck himself, and it wasn't an easy thing to do, you know people around here never go anywhere. They go straight from junior high to the factory and they spend their whole life in the village or they move a couple of towns over but never too far. But your dad really up and left.
*   *   *
So my father left. It must have been something he had often dreamed of doing. He imagined that down there the sun would make factory life more bearable, that the women there would be prettier. He left. He attempted to find work in Toulon, without success. My mother: He tried finding work as a barman but I imagine he spent more time at the bar drinking than actually asking for work. I don't know if he maybe traded odd jobs for things, or what really went on, 'cause your dad isn't exactly talkative, but I know he lived with an old lady. An old lady with lots of money. A Mormon if I remember right.
During his trip he had become friends with a young ne'er-do-well (my mother said: a pickpocketer; she was always mispronouncing things) who went by the name of Snow, an ironic nickname given his dark Maghrebi complexion. They became extremely close, spent all their nights together, and the pair of them would go out to pick up women.
Download


Copyright Disclaimer:
This site does not store any files on its server. We only index and link to content provided by other sites. Please contact the content providers to delete copyright contents if any and email us, we'll remove relevant links or contents immediately.