Impossible Journey by Michael Asher
Author:Michael Asher [Michael Asher] , Date: October 18, 2017 ,Views: 823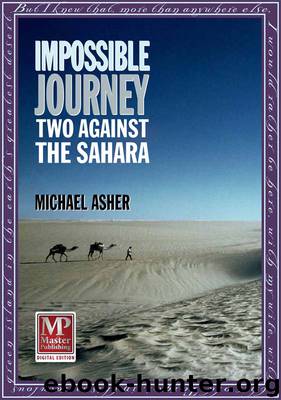 Author:Michael Asher [Michael Asher]
Language: eng
Format: epub
ISBN: 978-9966-05-201-8
Publisher: Master Publishing
Published: 2012-10-18T04:00:00+00:00



Udungu
It took us three hours to reach the town the following morning, hiking along the shoulder of the highway, where juggernaut trucks juddered past, blind as moles. It was difficult to adjust to the power and speed of these vehicles after our slow-coach camels' pace. The animals were terrified of the fume-spitting monsters and shied away, straining on the headropes. Once, Shigar's, nose ring was ripped out and had to be re-inserted.
We crossed the asphalt road, Sidi Mohammed directing like a policeman on point duty, and came to a hill from where the town sprawled out beneath us. It looked as big as Nouakchott. There were rings of new buildings across the outer skin and, in the centre, a pattern of streets circling the famous red mosque that stood out above them like a disjointed leg. We entered the back streets and came into a bustling market square. There was life here in plenty. The zinc-roofed stalls were piled high with cheap, gaudy goods, clothes, and colourful blankets. The streets were awash with milling bodies, black, brown, and coffee-coloured. It was a confusion after the quiet of the desert. Several Tuareg youths attached themselves to our caravan as we dodged through the traffic and wove a winding course in and out of the crowds.
We found a small hotel tucked away down a side street, next to a filling station. The manager was a polite young Targui dressed in Western clothes, who brought us bottles of lemonade from the fridge. We looked on incredulously as a real frost formed on the outside of our glasses. We drank the lemonade and went out to unload our camels for the last time.
As we couched them, an enormous camper drew up at the filling station next door. There was a middle-aged Swiss couple in the front seat. Evidently, they had come across the Sahara, but the desert had left little mark on them. Their dress was spotless and their coiffeured hair immaculate. I watched the sequence of expressions that played across their faces as they noticed us, beginning with, 'Camels! How interesting!' and ending with 'Hippies! How disgusting!' as their eyes fell on our filthy clothes. After that they looked away.
We unloaded and moved our gear into the hotel store. The manager was very helpful and friendly. He told me confidentially, 'These youths who have followed you are all well known for robbing tourists. Don't trust any of them. I say this only for your sûreté.' I thanked him and went out to find Sidi Mohammed being hustled by a tough-looking Tuareg youth with a mop of spiky hair who was wearing a faded blue-denim suit. A few more diffident boys hung around behind him. Before I could speak, the youth said in French, 'I will take your camels to the market. My uncle is the market manager. I will get good price for you!'
'Merci,' I answered. 'We don't need any help selling the camels. We know how much they're worth.'
The Targui looked belligerent, standing with his feet firmly apart, his hands thrust deep into his waistband.
Download


Copyright Disclaimer:
This site does not store any files on its server. We only index and link to content provided by other sites. Please contact the content providers to delete copyright contents if any and email us, we'll remove relevant links or contents immediately.