First Comes Love, then Comes Malaria by Eve Brown-Waite
Author:Eve Brown-Waite [Brown-Waite, Eve] , Date: January 10, 2018 ,Views: 870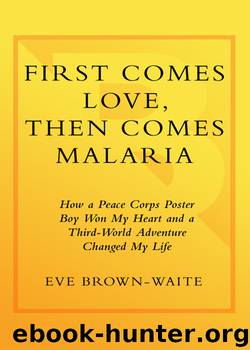 Author:Eve Brown-Waite [Brown-Waite, Eve]
Language: eng
Format: epub
ISBN: 978-0-7679-3149-6
Publisher: Crown/Archetype
Published: 2009-04-14T04:00:00+00:00



"Do you like our breakfast?" Auntie Lucy greeted me at the door of the dining hall the next morning. "Or should I ask the cook to make you some potatoes?"
"Oh, no. I love the breakfast, thank you," I said, taking a seat on a bench. I did love Ugandan breakfasts of sugary tea and hard-boiled eggs. I noticed there was something of a scramble to sit at my table. And as we crowded around, the women were quick to pick up where we had left off the night before.
"Do you have any babies?" a young woman next to me asked.
"Not yet. Maybe soon," I said.
"How many years have you been married?" she asked.
"Two years," I said.
"Why no babies? What are you waiting for?" Auntie Lucy, who always seemed to be nearby, asked.
"Well, I wanted to have a career; you know, get my work settled before I had children."
"But what about your husband? What does he say about that?" a woman across the table asked.
"What about his mother? What does she say about that?" someone shouted from the next table. All the women laughed.
"Here your husbands mother will make him take another wife if you do not have a baby soon enough," Auntie Lucy explained.
"Well, in America, the rest of the family usually stays out of it." I couldn't imagine my mother-in-law meddling in our sex life. My mother, however, was another story. "And as for my husband, well, he wants whatever I want. I mean, he wants to have children someday. He comes from a family of five brothers," I added.
"Will one of his brothers inherit you when your husband dies?" someone yelled from across the room.
"No!" I said. "In America it wouldn't go over very well to … um … to marry your husband's brother." Even if he is dead, I thought. The husband, not the brother.
"So your husband wants you to work, not have babies?" the young woman next to me asked.
"My husband wants me to be happy," I answered.
"Your husband sounds like a very unusual man," someone said.
"Not so unusual in America," I said. "But my husband is a very good man."
"Ugandan men are not that good," my neighbor said.
"None of them?" I asked, thinking of Adam, who spoke so sweetly of his wife, Sarah, although she and their children had yet to join us in Arua. And I wondered about the many men who worked for CARE. They were all so unfailingly kind and helpful to me. Did they treat their wives differently?
"Of course not," Auntie Lucy intervened. "There are good men here. But it is not unusual for women to be mistreated. My own husband was very good to me. Now he is dead and I stay on my own. I did not wish to go to his brother. But our life is not like your life."
We all sat quietly for a few moments.
"But listen to your auntie, dear," Lucy said, interrupting the silence. "Do not wait too long to have babies." Strange how my
Download


Copyright Disclaimer:
This site does not store any files on its server. We only index and link to content provided by other sites. Please contact the content providers to delete copyright contents if any and email us, we'll remove relevant links or contents immediately.