The Old Patagonian Express: By Train Through the Americas by Paul Theroux
Author:Paul Theroux , Date: October 30, 2017 ,Views: 910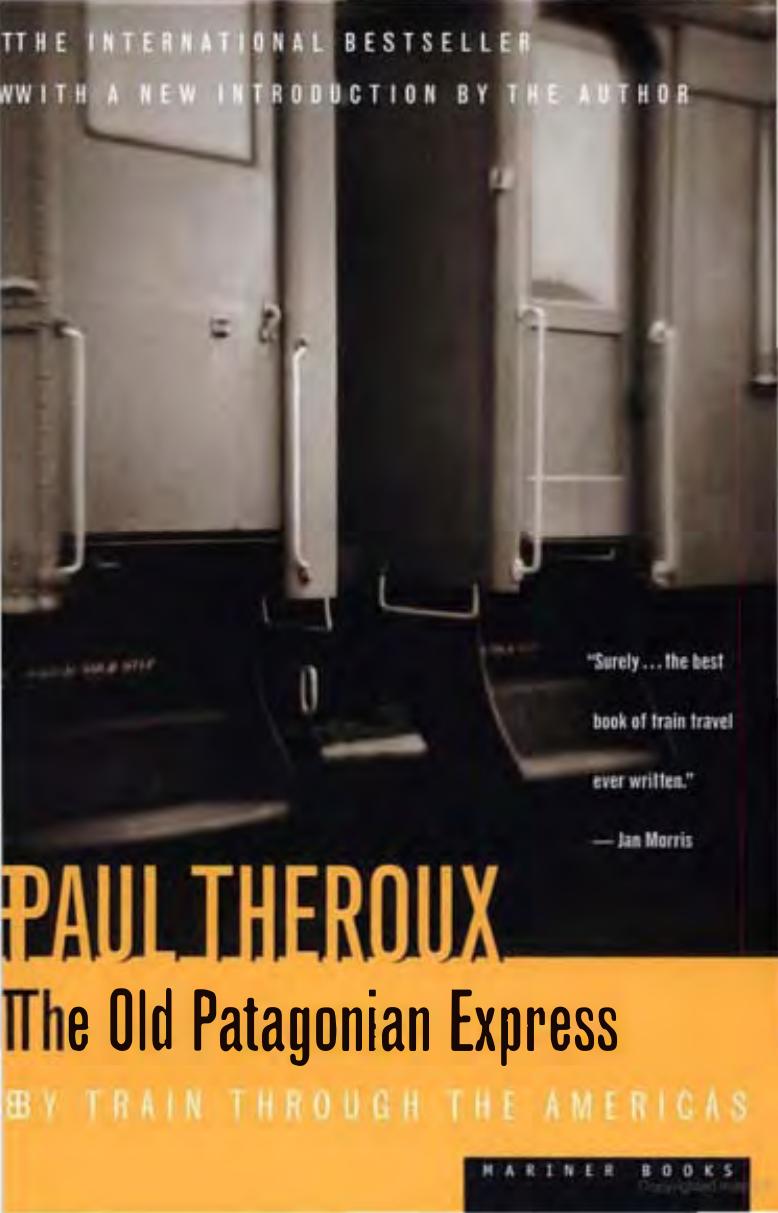 Author:Paul Theroux
Language: eng
Format: mobi, epub
Tags: Travel, Essays & Travelogues
ISBN: 9780141930770
Publisher: Penguin UK
Published: 2011-11-24T00:00:00+00:00



John Reiss was a tall stout mortician with a pink complexion and a friendly manner. His wife had said, 'He's wonderful with bereaved relatives - he just calms them down, I don't know how he does it.' He was soft-spoken and precise, interested in his work - interested particularly in embalming - and proud of the fact that corpses were sent to him from all over Central and South America. Like many other Zonians he was a member of the Elks' Club, the V.F.W., the Rotary, but his mortician's interest perhaps made him more of a joiner than most: a mortician is a public figure in America, like a mayor or a fire chief, and the Zone was a version of America. But Mr Reiss was also a member of the local barber shop quartet, and there was in his voice a kind of melodious croon, a singer's modulation, a mortician's concerned coo.
'To start off with,' said Mr Reiss in the Coffin Room, an instructional whisper in his voice, 'here we have the coffins themselves. If you were a local employee you got this coffin.'
It was a plain silvery steel coffin, with unornamented handles, a buffed metal box the length of a man and the depth of a horse trough. It was shut, the lid fastened. It was difficult for me to see this closed coffin and not to feel a distinct uneasiness about what it might contain.
'And if you were an American you got this one.'
This one was bigger and a bit fancier. There were rosettes on the side and simulated carving on the corners of the lid, some romanesque scrollwork, leaf clusters and the sort of handles you see on doors in Louisburg Square in Boston. Apart from the foliage, and the size, I wondered whether there was any other difference between this coffin and the silver one.
This is much more expensive,' said Mr Reiss. 'It's hermetically sealed, and look at the difference in the colours.'
Of course, this one was goldy bronze, the other was silver. They matched the status of the deceased. It was a racial distinction. From about the turn of the century until very recently, race was expressed by the Panama Canal Company not in terms of black and white but by the designations gold and silver. The euphemism was derived from the way workers were paid: the unskilled workers, most of them black, were paid in silver; the skilled workers, nearly all white Americans, were paid in gold. The terms applied to all spheres of life in the Zone; there were gold schools and silver schools, gold houses and silver houses, and so on, to gold coffins and silver coffins, the former hermetically sealed, the latter - like the silver house - leaky. So, even in his casket, the canal employee could be identified, and long after he had turned to dust, the evidence of his race lost in decay, his remains could be disinterred and you would know from the hue ofthat box whether the grit in that winding sheet had once been a white man or a black man.
Download


Copyright Disclaimer:
This site does not store any files on its server. We only index and link to content provided by other sites. Please contact the content providers to delete copyright contents if any and email us, we'll remove relevant links or contents immediately.