Ancient Technology in Peru and Bolivia by David Hatcher Childress
Author:David Hatcher Childress [CHILDRESS, DAVID HATCHER] , Date: June 13, 2018 ,Views: 915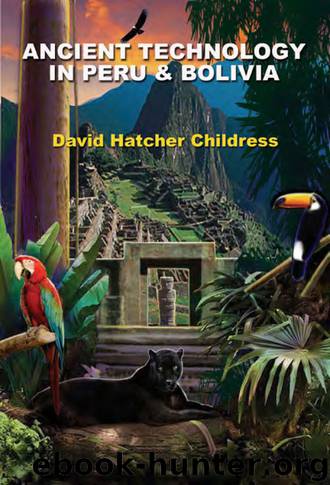 Author:David Hatcher Childress [CHILDRESS, DAVID HATCHER]
Language: eng
Format: epub
ISBN: 9781935487982
Publisher: Adventures Unlimited Press
Published: 2012-11-15T05:00:00+00:00



One of the megalithic towers at Sillustani, partially destroyed.
A drawing of one of the statues found at Pucar.
Another related explanation was that a massive amount of charcoal was needed in the smelting process of the tin, copper and other metals. Were the towers giant ovens for making charcoal? Did this have some affect on the deforestation of this area of Peru in ancient times? It is an area still largely devoid of trees, but they can grow here—and do—and there may have been huge forests around Lake Titicaca in the past, which are now gone. Yet, not far away are huge forests, often at even higher altitudes than Lake Titicaca. To the east of the lake are huge high-altitude forests which give way to dense jungle, including bamboo, as the altitude drops on the way to the Amazon Basin.
Chris expressed the idea that a possible function of the towers could have been to relieve stress in the earth, in a similar way that he theorizes the pyramids of Egypt also helped relieve stress in the earth. This would have meant that there were fissures in the rock beneath the mesa on a fault line of earthquake activity, I gathered.
It is interesting to note that the early Quechua-Spanish nobleman Felipe Guarnan Poma de Ayala published his illustrated chronicle of the Incas in 1615 that included a drawing of the Sacsayhuaman fortress above Cuzco featuring a large tower. This tower looks very similar to the towers at Sillustani and Cutimbo. In 1615 this tower (there were said to have been three) was still in place. It was dismantled in the decades that followed.
But we now have more questions: Were the towers at Sacsayhuaman burial towers? Probably not! If the towers at Cutimbo and Sillustani are pre-Inca, then are the towers at Sacsayhuaman pre-Inca as well (and all of Sacsayhuaman)? Yes, it would seem that way. Indeed, the towers at Cutimbo, Sillustani and Sacsayhuaman are all good proof that many of the megalithic structures attributed to the Incas are actually pre-Inca and more closely associated with the Tiwanaku culture and its construction techniques. What was their purpose? Were they energy acupuncture needles of stone for the earth, like obelisks and the famous round towers of Ireland? Smelting or charcoal-making towers? Or did they whistle and make noises on the windy days on top of mesas and hills, perhaps serving as a foul weather warning system? Perhaps they were for grain storage or just tombs for the dead, fancier than the houses people lived in during their lifetimes. These towers, shall we say, remain a mystery.
Download


Copyright Disclaimer:
This site does not store any files on its server. We only index and link to content provided by other sites. Please contact the content providers to delete copyright contents if any and email us, we'll remove relevant links or contents immediately.