Living under Post-Democracy by Caleb R. Miller
Author:Caleb R. Miller , Date: May 5, 2021 ,Views: 51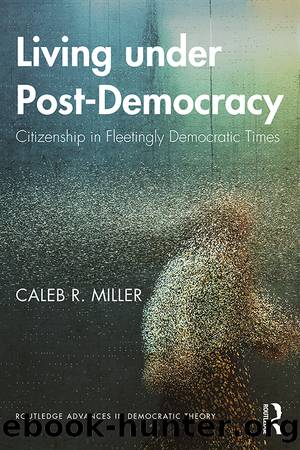 Author:Caleb R. Miller
Language: eng
Format: epub
Publisher: Taylor and Francis
Published: 2020-05-15T00:00:00+00:00



References
Achen, Christopher H. and Larry Bartels. Democracy for Realists: Why Elections Do Not Produce Responsive Government. Princeton, NJ: Princeton UP, 2016.
Beiner, Ronald. Nietzsche, Heidegger, and the Return of the Far Right. Philadelphia: University of Pennsylvania Press, 2018.
Connolly, William E.The Augustinian Imperative: A Reflection on the Politics of Morality. New York: Sage Press, 1993.
Constant, Benjamin. "The Liberty of the Ancients Compared with that of the Moderns" in Political Writings. Biancamaria Fontana, ed. New York: Cambridge UP, [1819] 1988.
Cook, Joanna, Nicholas J. Long, and Henrietta L. Moore. "Introduction: When Democracy 'Goes Wrong'" in The State We're In: Reflecting on Democracy's Troubles. Cook, Joanna, Nicholas J. Long, and Henrietta L. Moore, eds. New York: Berghahn Books, 2016.
Crouch, Colin. Post-Democracy. Malden, MA: Polity Press, 2004.
Derrida, Jacques. Rogues: Two Essays on Reason. Redwood City, CA: Stanford UP, 2005.
Habermas, Jurgen. Between Facts and Norms: Contributions to a Discourse Theory of Law and Democracy. Cambridge, MA: MIT Press, [1992] 1998.
Habermas, Jurgen. The Crisis of the European Union: A Response. Malden, MA: Polity Press, 2012.
Honig, Bonnie. Democracy and The Foreigner. Princeton, NJ: Princeton UP, 2001.
Hook, Sidney. Pragmatism and the Tragic Sense of Life. New York: Basic Books Inc, 1974.
Michels, Robert. Political Parties: A Sociological Study of the Oligarchical Tendencies of Modern Democracy. New York: The Free Press, [1911] 1962.
Mosca, Gaetano. The Ruling Class. New York: McGraw-Hill, [1896] 1939.
Norval, Aletta J.Aversive Democracy: Inheritance and Originality in the Democratic Tradition. New York: Cambridge UP, 2007.
Pareto, Vilfredo. The Rise and Fall of Elites: An Application of Theoretical Sociology. New York: Routledge Press, [1920] 2017.
Rancière, Jacques. Dis-agreement: Politics and Philosophy. Minneapolis, MN: University of Minnesota Press, [1995] 1999.
Rorty, Richard. Achieving Our Country: Leftist Thought in Twentieth-Century America. Cambridge, MA: Harvard UP, 1998.
Rorty, Richard. "Post-Democracy: Richard Rorty on Anti-Terrorism and the National Security State," London Review of Books 26. 7 (April 1, 2004): 10–11.
Schattschneider, E. E.The Semisovereign People: A Realist's view of Democracy in America. New York: Holt, Rhinehart, and Winston, 1960.
Schumpeter, Joseph. Capitalism, Socialism, and Democracy. New York: Ruskin House, [1942] 1954.
Weber, Max. Economy and Society. Berkeley, CA: University of California Press, [1922] 1978.
Willis, Andre C. "Considering 'Post-Democracy'," Juncture 22. 3 (Winter 2015): 201–202.
Wolin, Sheldon. "Fugitive Democracy," Constellations 1. 1 (December 1994): 11–25.
Download


Copyright Disclaimer:
This site does not store any files on its server. We only index and link to content provided by other sites. Please contact the content providers to delete copyright contents if any and email us, we'll remove relevant links or contents immediately.