Jean Sibelius's Violin Concerto by Ramnarine Tina K.;
Author:Ramnarine, Tina K.; , Date: October 24, 2021 ,Views: 167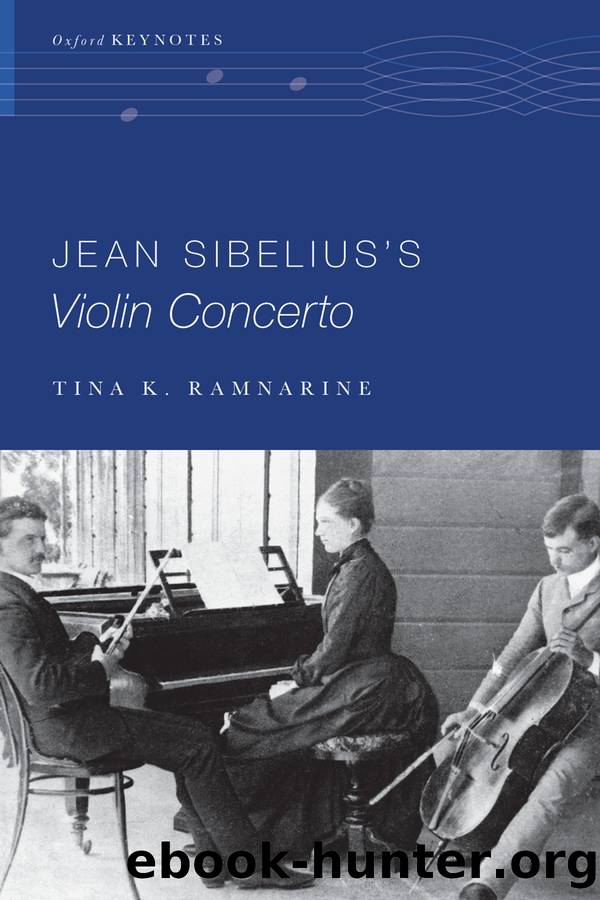 Author:Ramnarine, Tina K.;
Language: eng
Format: epub
Publisher: Oxford University Press USA - OSO
Published: 2020-10-15T00:00:00+00:00



These civic rights bring klezmer into view as another violin-playing tradition that is part of the broader cultural context and history of Sibelius's violin concerto. Civic rights gave Jewish students at conservatories access to St. Petersburg and Moscow, cities that were otherwise largely closed to them due to legal restrictions on their free movement. Jewish students were not allowed to make up more than 5 percent of the total student body in those cities, a ruling from which the St. Petersburg Conservatory was exempt due to the initiatives of its director (the cellist Karl Davidoff) and president (the grand duke). However, students could not be accompanied by their parents. Alexander Glazunov, Auer's last director, intervened in the case of Heifetz, who was "admitted to the Conservatoire without question in view of his talent,"31 and Auer also accepted Jascha's father as a student.
Jewish violinists shaped performance styles at the conservatory. The ethnomusicologist Mark Slobin noted that Auer was "most responsible for shifting Russian klezmer energy into classical channels," and he credited the violin pedagogue with recognizing the complexities of an ornament like the krekhts (stopping the string and flicking the finger), which combined "the technical, the aesthetic, and the national."32 Auer taught many violinists from families of klezmorim, including Elman and David Oistrakh, and the "Russian sound" has been described as incorporating klezmer violin techniques such as a lot of vibrato and portamento into more traditionally classical modes of playing.33 Heifetz moved to St. Petersburg from Vilnius, a city that was itself a focal point for Jewish communities in the northwest region of the Russian Empire. The scholar Mosei Beregovsky noted that klezmer musicians sought employment in ensembles in Vilnius; they provided entertainment for parks and restaurants during the early twentieth century.34 Later in the twentieth century, violinists from this klezmer background who trained with Auer would have a profound impact on violin playing worldwide. Among them, the violinists Oistrakh and Heifetz would become well-known performers of Sibelius's violin concerto. The Finnish violinist Anja Ignatius appreciated Oistrakh's interpretation of the concerto, and she commented favorably on his rendition of the opening melody ( see audio-visual example 4.8 on the website).35,36
The place of these violinists in the story of Sibelius's violin concerto means that this work stands at the crossroads of different nationalisms. During his years of study, Heifetz collaborated with members of the Society for Jewish Folk Music, which was founded in St. Petersburg in 1908 by conservatory students and cultural activists. The society's aim to develop Jewish music was informed by the ethnographic collections of Jewish folk songs that were published by the Jewish Historical-Ethnographic Society. Musical arrangements and compositions based on folk materials contributed to the idea of developing Jewish national art music.37 Composers incorporated melodies from Torah cantillation, prayer chant, Hasidic nigunim, wedding dances played by klezmer ensembles, and songs from Yiddish theatre. They also "added harmonic accompaniment and virtuosic passages for the violin, expanded musical forms, and made other significant alterations in adapting music that originated in the synagogue and the home for the classical concert hall.
Download


Copyright Disclaimer:
This site does not store any files on its server. We only index and link to content provided by other sites. Please contact the content providers to delete copyright contents if any and email us, we'll remove relevant links or contents immediately.