Jams, Preserves and Chutneys by Marguerite Patten
Author:Marguerite Patten , Date: January 23, 2018 ,Views: 962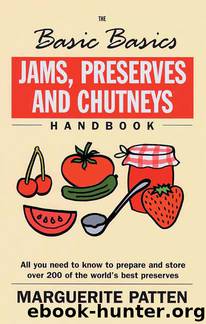 Author:Marguerite Patten
Language: eng
Format: epub
Tags: COOKING / General
ISBN: eBook ISBN: 9781908117731
Publisher: Grub Street Cookery
Published: 2008-11-04T05:00:00+00:00



TANGERINE MARMALADE
Cooking time: 1¼ to 1½ hours • Makes 1.125 kg/2½ lb marmalade
There are many small citrus fruits that are somewhat similar to tangerines. Many of these, like satsumas and clementines, are seedless. This makes them excellent to eat as dessert fruit, but means that they lack pectin, so a generous amount of lemon juice is essential if using them to make preserves.
Metric/Imperial Ingredients American
450 g/1 lb tangerines or similar 1 lb
900 ml/1½ pints water 3¾ cups
675g/1½ lb sugar 3 cups
5 tablespoons lemon juice 6¼ tablespoons
Halve the fruit, take out the pips (if there are any) and tie these in muslin. Squeeze out the juice and put on one side. Cut up the peel, pulp and pith and soak for several hours, or overnight, in the water, adding the bag of pips. Simmer in the water until tender, then remove the pips. Add the sugar, the juice from the fruit and the lemon juice. Stir over a low heat until the sugar has dissolved then boil rapidly until setting point is reached. Cool for a short time, then stir to distribute the peel and spoon into hot jars and seal down.
The marmalade I made with Sevllle oranges did not set properly. I used fruit that I had frozen as I had no time to make the preserve when the oranges were in season. I have never had any problems with marmalade before, why this time?
Freezing fruit destroys a little of the natural setting quality in the fruit and therefore it is necessary to add extra lemon juice or to use slightly more fruit to increase the pectin content. This is explained on page 14.
Download


Copyright Disclaimer:
This site does not store any files on its server. We only index and link to content provided by other sites. Please contact the content providers to delete copyright contents if any and email us, we'll remove relevant links or contents immediately.