Asian Pickles: China by Karen Solomon
Author:Karen Solomon [Solomon, Karen] , Date: October 4, 2017 ,Views: 1696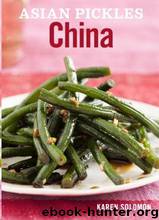 Author:Karen Solomon [Solomon, Karen]
Language: eng
Format: epub
Published: 2014-09-29T05:02:53.086000+00:00



Volume
U.S.: 1 tablespoon
Imperial: ½ fl oz
Metric: 15 ml
U.S.: 2 tablespoons
Imperial: 1 fl oz
Metric: 30 ml
U.S.: ¼ cup
Imperial: 2 fl oz
Metric: 60 ml
U.S.: ⅓ cup
Imperial: 3 fl oz
Metric: 90 ml
U.S.: ½ cup
Imperial: 4 fl oz
Metric: 120 ml
U.S.: ⅔ cup
Imperial: 5 fl oz (¼ pint)
Metric: 150 ml
U.S.: ¾ cup
Imperial: 6 fl oz
Metric: 180 ml
U.S.: 1 cup
Imperial: 8 fl oz (⅓ pint)
Metric: 240 ml
U.S.: 1¼ cups
Imperial: 10 fl oz (½ pint)
Metric: 300 ml
U.S.: 2 cups (1 pint)
Imperial: 16 fl oz (⅔ pint)
Metric: 480 ml
U.S.: 2½ cups
Imperial: 20 fl oz (1 pint)
Metric: 600 ml
U.S.: 1 quart
Imperial: 32 fl oz (1⅔ pint)
Metric: 1 liter
Temperature
Fahrenheit: 250°F
Celsius / Gas Mark: 120°C / gas mark ½
Fahrenheit: 275°F
Celsius / Gas Mark: 135°C / gas mark 1
Fahrenheit: 300°F
Celsius / Gas Mark: 150°C / gas mark 2
Fahrenheit: 325°F
Celsius / Gas Mark: 160°C / gas mark 3
Fahrenheit: 350°F
Celsius / Gas Mark: 180°C or 175°C / gas mark 4
Fahrenheit: 375°F
Celsius / Gas Mark: 190°C / gas mark 5
Fahrenheit: 400°F
Celsius / Gas Mark: 200°C / gas mark 6
Fahrenheit: 425°F
Celsius / Gas Mark: 220°C / gas mark 7
Fahrenheit: 450°F
Celsius / Gas Mark: 230°C / gas mark 8
Fahrenheit: 475°F
Celsius / Gas Mark: 245°C / gas mark 9
Fahrenheit: 500°F
Celsius / Gas Mark: 260°C
Length
Inch: ¼ inch
Metric: 6 mm
Inch: ½ inch
Metric: 1.25 cm
Inch: ¾ inch
Metric: 2 cm
Inch: 1 inch
Metric: 2.5 cm
Inch: 6 inches (½ foot)
Metric: 15 cm
Inch: 12 inches (1 foot)
Metric: 30 cm
Weight
U.S. / Imperial: ½ oz
Metric: 15 g
U.S. / Imperial: 1 oz
Metric: 30 g
U.S. / Imperial: 2 oz
Metric: 60 g
U.S. / Imperial: ¼ lb
Metric: 115 g
U.S. / Imperial: ⅓ lb
Metric: 150 g
U.S. / Imperial: ½ lb
Metric: 225 g
U.S. / Imperial: ¾ lb
Metric: 350 g
U.S. / Imperial: 1 lb
Metric: 450 g
Further Reading
Science & Civilisation in China, Volume 6; Part 5: Fermentations and Food Science, by Joseph Needham and H. T. Huang
Flavor & Fortune magazine
The Chinese Kitchen, by Eileen Yin-Fei Lo
Chop Suey: A Cultural History of Chinese Food in the United States, by Andrew Coe
Food in Chinese Culture, by K. C. Chang
About the Author
Karen Solomon is the author of Jam It, Pickle It, Cure It; Can It, Bottle It, Smoke It; and The Cheap Bastard's Guide to San Francisco. She was a contributing author to Chow! San Francisco Bay Area: 300 Affordable Places for Great Meals & Good Deals and a contributing editor to Zagat Survey: San Francisco Bay Area Restaurants. Her edible musings on the restaurant scene, sustainable food programs, culinary trends, food history, and recipe development have appeared in Fine Cooking, Prevention, Yoga Journal, Vegetarian Times, Food52, Organic Style, the San Francisco Chronicle, San Francisco Magazine, San Francisco Bay Guardian, and elsewhere, all of which showcase the diversity of her word-wrangling plate. She's currently a columnist for Saveur.com and a guest blogger for The Blender, the Williams-Sonoma blog, and the Bay Area Bites KQED food blog. Visit www.ksolomon.com for more information.
Download


Copyright Disclaimer:
This site does not store any files on its server. We only index and link to content provided by other sites. Please contact the content providers to delete copyright contents if any and email us, we'll remove relevant links or contents immediately.