Canning for a New Generation by Liana Krissoff
Author:Liana Krissoff , Date: February 18, 2018 ,Views: 1073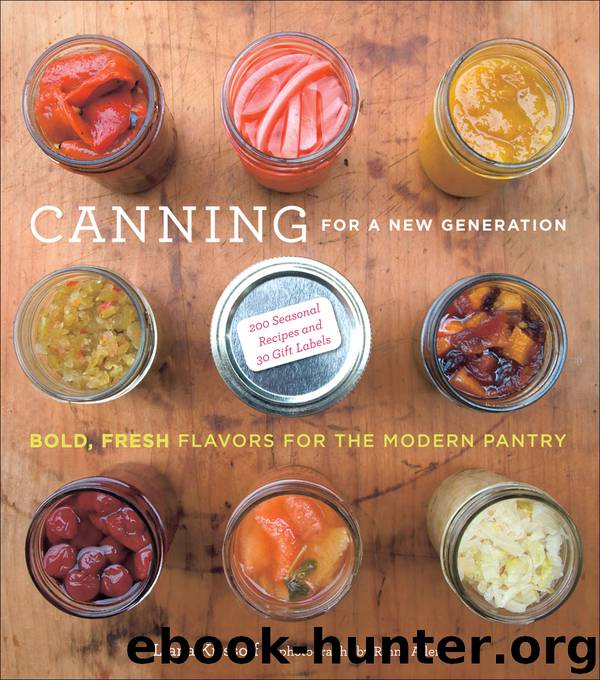 Author:Liana Krissoff
Language: eng
Format: epub
Publisher: Stewart, Tabori & Chang
Published: 2011-02-03T05:00:00+00:00



FREEZING PEPPERS
My folks would simply dice up their homegrown summery bell peppers of every conceivable color, stuff them into plastic bags, and stash them in the freezer for the winter. I have vivid memories of Mom sending me to the chest freezer for peppers for this or that supper; when I opened the freezer, I was amazed at all the little bags of colorful diced peppers (and knew that we'd probably be having bell peppers in everything from now until eternity). Now that I'm on my own, I don't honestly have much use for peppers in quantity unless they're (1) roasted or (2) chiles, hot. When they're in season and plentiful in midsummer, I can roast red peppers in olive oil and lemon juice, but also freeze whole roasted poblanos so they're ready and waiting for chiles rellenos or rajas or chowders (or really anything that's cooked in a pot). Small hot chiles I freeze either whole or diced (I keep them in a little container with the other aromatics in the freezer door, and use a fork to pry out only as many as I need at a time).
Roasted poblano chiles: As with the Roasted Red Peppers with Lemon Juice on page 149, here I like to use a gas burner—in fact, all four of mine at once—to blister the skins of the peppers. You can also put them on sheet pans and pass them under the broiler, turning them over and moving the pans around occasionally, but I find the stovetop method to be much less labor intensive. I can blister a batch of 30 peppers in about 20 minutes on four gas burners. Peeling and seeding takes a good 45 minutes if you take the seeds out through a discreet slit in the side, less time if you just cut around the top and pull the seed pod out by the stem, which I think makes for a supremely silly-looking stuffed pepper. But by all means do it the quick way if you know you're going to use them for rajas or other dishes in which they'll be cut into pieces rather than left whole.
Download


Copyright Disclaimer:
This site does not store any files on its server. We only index and link to content provided by other sites. Please contact the content providers to delete copyright contents if any and email us, we'll remove relevant links or contents immediately.