The Complete Guide to Drying Foods at Home: Everything You Need to Know About Preparing, Storing, and Consuming Dried Foods by Paajanen Terri
Author:Paajanen, Terri , Date: January 19, 2018 ,Views: 971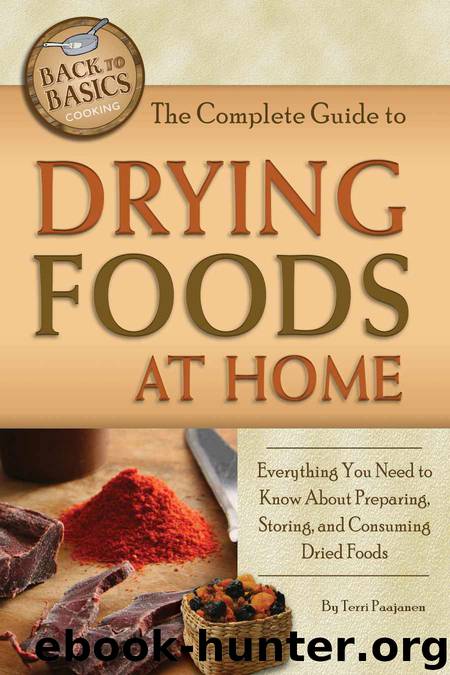 Author:Paajanen, Terri
Language: eng
Format: epub
Tags: drying foods, vegetables, fruit, meat, herbs, grain, dairy, food dehydrator, oven, microwave, sun, freshness, recipes, tips, economic, health, money saving
Publisher: Atlantic Publishing Group
Published: 2012-01-11T05:00:00+00:00



Growing Your Own Vegetables
More people are familiar with growing vegetables than fruit, so this is likely not as unusual, even to a novice gardener or people who have never grown their own food.
Nearly all vegetables (except asparagus and rhubarb) are annuals, so you will have to plant new seeds every spring. Because you do not have to overwinter your plants as you do with fruit, your growing region is less important. Each type of vegetable will need a certain amount of growing season, so how long you have consistent warm weather is more important than how cold it gets in the winter.
In areas with a short summer, you can extend your growing season by either starting your plants indoors or by buying seedlings instead of planting seeds. You just have to make sure your plants are not planted outdoors until you have no more chance of frost.
Vegetables are prone to insect damage, so you will want to have a good supply of insecticidal sprays around that are natural and safe to use on food plants. Any sprays with pyrethrum will be effective without adding any toxins to your food.
Many vegetables will produce better if kept upright with supports. Vining plants like cucumber or zucchini can grow on trellis, and shorter plants such as tomatoes can be kept up in a tomato cage or tied to a stake.
Cucumbers, green beans, tomatoes, carrots, and peas are easy vegetables to start with. Peas grow quickly and would give the earliest harvest, but the others will take a few months before you can start picking. When growing vegetables for dehydrating, try to plan your drying time as soon as possible after you have picked them. If you have to save up several days' worth in order to fill your dehydrator, store the extra in the fridge until you are ready to use them.
Table of Contents
Download


Copyright Disclaimer:
This site does not store any files on its server. We only index and link to content provided by other sites. Please contact the content providers to delete copyright contents if any and email us, we'll remove relevant links or contents immediately.