Intellectual Shamans: Management Academics Making a Difference by Sandra Waddock
Author:Sandra Waddock [Waddock, Sandra] , Date: July 5, 2020 ,Views: 136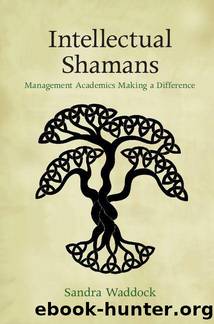 Author:Sandra Waddock [Waddock, Sandra]
Language: eng
Format: epub
Publisher: Cambridge University Press
Published: 2014-12-31T08:00:00+00:00



Neal observed shamanically oriented managers quite deliberately seeking information from one realm, such as meditation, contemplative practices, or other sources, and using it in their management practices. Like Neal, David Cooperrider emphasizes a link between theory and practice in much of his work, and the desire to span across realms started early in his career. He remembers:
I really felt like I wanted to be in a field that had its feet in both theory and practice. I was searching for a field that might be called applied social psychology. Well, I didn't find such a field, but then my dad told me about a field called organization development that was just being born. He gave me some books by Warren Bennis and a few others, and I was absolutely inspired. One of the books was Carl Rogers' book that recounted his experience in South Africa. It was a book on the T-group, the encounter group. He called it the most important social invention of the twenty-first century because it made human relatedness amenable to inquiry, to change, and to development. This book really spoke to me about what this field might be about. […]
[Reverend] Dale White1n is the one who invited Carl Rogers to South Africa during the really intense period of time – and to introduce to the T-group. Dale told me that in Carl Rogers; first T-group one of the members was Steve Biko.2n Steve Biko gave voice to the black consciousness movement during that T-group, and then went out of that T-group setting and began to create a movement, the black consciousness movement.
Well, we know what happened to Steve Biko. He got killed. Carl Rogers; book speculates about the power of the T-group for helping us surface the highest growth-promoting relationships possible where we are who we are because of other people and how to create those growth-promoting contexts where the relationships come alive. Then Rogers speculated and talked about this breakthrough of the T-group and how many applications it had from interpersonal relations, to family relations, to group and team and organization, and he said it has implications all the way up to international relationships. I thought, 'This is a fascinating new field being born that can make a difference in the human condition of the world through this kind of merging of inquiry and action and in the here and now of human interaction.'
Download


Copyright Disclaimer:
This site does not store any files on its server. We only index and link to content provided by other sites. Please contact the content providers to delete copyright contents if any and email us, we'll remove relevant links or contents immediately.