Hitler in Los Angeles by Steven J. Ross
Author:Steven J. Ross , Date: December 16, 2017 ,Views: 3291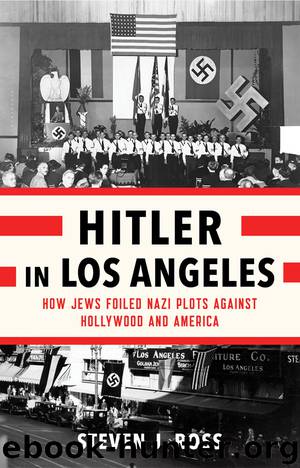 Author:Steven J. Ross
Language: eng
Format: epub
Publisher: Bloomsbury Publishing



GYSSLING UNDER ATTACK
At the same time the German consul stepped up pressure on the studios, he found himself attacked on several fronts: from studio heads and trade press columnists who objected to a foreign nation interfering with their business; from government authorities who accused him of running a spy ring; and most of all from local Bundists who simply hated his guts.
The uproar surrounding The Road Back brought Gyssling out of the shadows of screening rooms and into the limelight. Motion Picture Daily editor Red Kahn blasted the German diplomat and his "crackpot and irrational government" for their "unwarranted interference in matters which are none of its business." The Hollywood Reporter denounced Gyssling and insisted that his threats had "aroused American film interests to a high state of resentment against Nazi policies." Anger at the consul and his government grew so intense that Hollywood Spectator editor Welford Beaton published a widely circulated letter to the Jewish moguls urging them to use "one mighty voice" to help "your persecuted blood-brothers."20
The unwanted attention the Nazi consul received in Washington, D.C., proved far more disturbing than editorials in Hollywood periodicals. In July 1937, Samuel Dickstein accused the German government of running a "well organized subversive, un-American spy system in this country." Georg Gyssling responded to Dickstein's charges with "hearty laughter" and insisted "Nazism is not an exportable commodity. This is all too laughable. It doesn't sound like the assertion of a man in his right mind." Four months later, Dickstein named 116 suspected West Coast spies who answered to San Francisco consul Manfred von Killinger, who in turn was aided by Gyssling.21
Dickstein singled out Hermann Schwinn as the city's most prominent Nazi, but many believed Gyssling to be in charge of local espionage activities. Never a formal spymaster like Lewis, Gyssling had been ordered by Berlin to assist secret agents sent to the United States if they needed money or help.22
Gyssling may not have run an espionage ring with spies sent from Berlin, but he did have his own local agents, men like Werner Plack who kept him abreast of news about "important film personages" and general Hollywood developments. Plack left Los Angeles in 1940 under suspicion of being a secret agent and returned to Germany, where he went to work for the Foreign Office. Gyssling also obtained information from his close friend Hans Wolfram, editor of the Los Angeles Staats Zeitung. According to Lewis's operatives, Wolfram served as the consul's "go-between for the German American Bund and the more respectable elements in Los Angeles who were sympathetic to German Fascism." Wolfram's girlfriend, Jo Alderman, the city's social leader and frequent guest at Gyssling's home, proved a valuable source of information about elite attitudes to Germany. Given the consul's knowledge of the goings-on at Deutsches Haus, it is likely he had other men reporting to him.23
To Schwinn and Konrad Burchardi, the consul was the most hated Nazi in Los Angeles. Gyssling knew it and informed the Foreign Office in the summer of 1936
Download


Copyright Disclaimer:
This site does not store any files on its server. We only index and link to content provided by other sites. Please contact the content providers to delete copyright contents if any and email us, we'll remove relevant links or contents immediately.