Giving Voice to Bear by David Rockwell
Author:David Rockwell , Date: April 3, 2016 ,Views: 541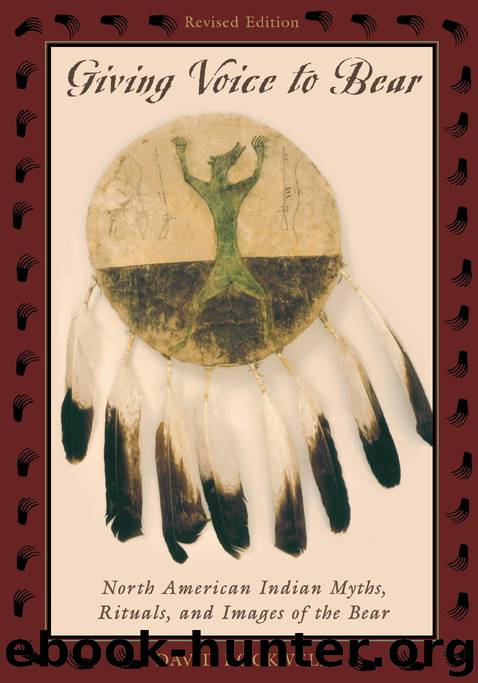 Author:David Rockwell
Language: eng
Format: epub, mobi
Publisher: Roberts Rinehart
Published: 1991-04-02T16:00:00+00:00



Tlingit bear hunter's decorative face painting. Smithsonian Institution.
He left and got down there and told his brothers, "This is my sister up there. She wants the head and tail."
They did this, and they went home. They told their mother. She got busy and sewed. She had a dress and moccasins and clothes for the children. The next day she went up there. They dressed the little kids. Then they went down to where the bear was killed. The boys had left a big fire. She burned the head and tail. Then she sang until all was ashes.
Then they went home, but she didn't go right home. She said, "Get the boys to build a house. I can't come right in to the main camp. It will be quite a while. The boys can build a camp right away."
She stayed there a long while. Towards fall she came and stayed with her mother. All winter. The kids grew.
Next spring her brothers wanted her to act like a bear. They wanted to play with her. They had killed a female bear that had cubs, one male and one female. They wanted their sister to put on the hide and to act like a bear. They fixed little arrows. They pestered her to play with them, and they wanted her two little children to play too. She didn't want it.
She told her mother, "I can't do it! Once I do it, I will turn into a bear. I'm half there already! Hair is already showing on my arms and legs! It is quite long."
If she had stayed there with her bear husband another summer she would have turned into a bear. "If I put on a bearhide, I'll turn into one!," she said.
They kept telling her to play. Then her brothers sneaked up. They threw the hides over her and the little ones. Then she walked off on four legs, and she shook herself just like a bear. It just happened. She was a grizzly bear. She couldn't do a thing. She had to fight against the arrows. She killed them all off, even her mother. But she didn't kill her youngest brother, not him. She couldn't help it. Tears were running down her face.
Then she went on her own. She had her two little cubs with her.
That's why the bear is partly human. That is why you never eat grizzly bear meat. Now people eat black bear meat, but they still don't eat grizzly meat, because grizzlies are half human.6
The Girl Who Married the Bear is an old tale. Versions of it were told over large parts of northern North America, and similar stories have been recorded from Siberia.7 In North America it seemed to center in what is now western Canada and Alaska. Of all the tales told by the northern Athapaskans and their neighbors, this was one of the favorites. McClellan, who has worked for years among the Tagish, Tutchone, and Tlingit, writes that it remains today the tale of first choice among both men and women, young and old.
Download


Copyright Disclaimer:
This site does not store any files on its server. We only index and link to content provided by other sites. Please contact the content providers to delete copyright contents if any and email us, we'll remove relevant links or contents immediately.