Delivering Happiness by Tony Hsieh
Author:Tony Hsieh [HSIEH, TONY] , Date: February 13, 2015 ,Views: 2644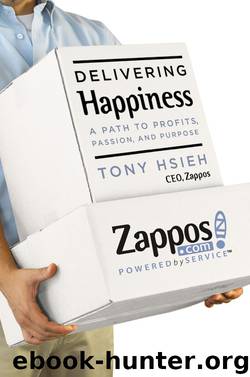 Author:Tony Hsieh [HSIEH, TONY]
Language: eng
Format: epub, mobi
Tags: BUS041000
ISBN: 9780446576314
Publisher: Grand Central Publishing
Published: 2010-06-06T16:00:00+00:00



Growing Up
"What do we want to be when we grow up?"
It was a question I'd been thinking about for a while. I was at a Mexican restaurant with Fred, asking him the same question.
"Do we want to be about shoes, or do we want to be about something bigger?" I asked. "We can get to $1 billion in just footwear sales by 2010, but what about beyond that?"
"It would be pretty natural for us to expand into handbags and apparel," Fred said. "We could be the number one destination online for outfitting people from head to toe. We could appeal to every lifestyle—running, outdoors, fashion, and so on."
I thought back to my poker days and about the most important decision being which table to sit at. We had been sitting at the online footwear sales table. It was time to make a switch and move to a bigger table. I wondered if we could think of something even bigger than shoes, handbags, and apparel online.
"We had a customer e-mail us the other day," I said. "He had ordered a pair of shoes that we had in our warehouse and we surprised him with a shipping upgrade so that he got his order in two days instead of our original promise of a week. He said he loved our customer service and would tell his friends and family about us. He even said we should one day start a Zappos Airlines."
"That's pretty funny," Fred said.
"Have you read Good to Great by Jim Collins?" I asked.
"No, is it a good book? I mean… is it a great book?"
"Yeah, you should definitely read it," I replied. "He talks about what separates the great companies from just the good ones over the long term. One of the things that he found from his research was that great companies have a greater purpose and bigger vision beyond just making money or being number one in a market. A lot of companies fall into the trap of just focusing on making money, and then they never become a great company."
"Well," Fred replied, "making money would certainly be a nice problem for us to have right now."
"We'll get there. We just need to get through this year. We had a good phone call with Wells Fargo today, so maybe we can get a loan from them."
"What are the chances of that happening?" Fred asked.
"It's too early to tell. But at least they didn't flat-out say no like all the other banks we tried to contact."
Fred and I continued talking. On the one hand, we had to get through our short-term cash-flow challenges. On the other hand, we wanted to make sure we were thinking long-term and laying the foundation for the future of the company. We knew we couldn't choose one over the other. We had to do both.
By the end of lunch, we realized that the biggest vision would be to build the Zappos brand to be about the very best customer service. Maybe one day
Download


Copyright Disclaimer:
This site does not store any files on its server. We only index and link to content provided by other sites. Please contact the content providers to delete copyright contents if any and email us, we'll remove relevant links or contents immediately.