Dark Mysteries of the Vatican by H. Paul Jeffers
Author:H. Paul Jeffers , Date: March 25, 2014 ,Views: 1144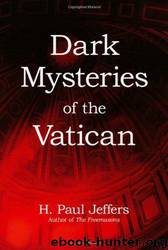 Author:H. Paul Jeffers
Language: eng
Format: mobi, epub
Tags: Christianity - Catholic, Catholic, Christianity, Religion, Political Science, Church history, Corruption, Christian History & Denominations, Roman Catholicism, Conspiracy & Scandal Investigations, Christianity - History - Catholic, Current Events, Christian Church - History, Christian Church, Vatican, Vatican City, History, Curiosities & Wonders, Reference, Roman Catholic Church, Papacy, General, Conspiracy, Politics
ISBN: 9780806531328
Publisher: Citadel Press
Published: 2010-09-15T04:40:17.302000+00:00



CHAPTER 10
Spooks and Rats
Six decades after the end of World War II, a class-action lawsuit filed in federal court in San Francisco claimed that "atrocities carried out by the Nazi puppet government of Ante (Anton) Pavelic, head of the 'Catholic State of Croatia,'" had been done with the complicity of Vatican officials. "The Pavelic regime was typical of political movements that sprang up throughout Europe and had the support of so-called 'Clerical Fascism,'—an amalgam of orthodox Roman Catholic doctrine, anti-Semitism, and authoritarian politics. These groups enjoyed assistance of both the government in Italy under Mussolini, Nazi Germany's 'Ausland' department, which assisted like-minded movements" beyond Germany, and some Catholic clergy in and out of the Vatican.
"In Croatia, Pavelic's terrorists received critical funding in 1939 from Mussolini, and with the help of Archbishop A. Stepinac, to establish the Croat Separatist Movement and eventually seize power." Under Ustashi, [the secret police] a reign of terror fell "upon Jews, Orthodox Serbs who refused to convert to Catholicism, and political dissidents. Pavelic's government operated death camps, and extorted a fortune in gold and other valuables, much from Jews who were shipped to work in extermination camps in Germany. The Ustashi had the support of the Catholic Church (Archbishop Stepanic was the group's official "chaplain," he gave his blessing to the Pavelic regime), and especially the Croatian Franciscans. The San Francisco lawsuit charged that the Catholic order 'engaged in far ranging crimes including genocide [and] funding the reestablishment of the Croatian Nazi movement in South America in the 1950s.'"
The involvement of Croatian Catholics in creating an escape route for Nazis after the war was documented by American intelligence agents. Their records were preserved in the archives of the postwar Central Intelligence Agency. One of these declassified files was that of a priest, Krunoslav Stjepan Draganovic. It noted that he was born in Brcko, Bosnia. "Ordained a priest, he served in Sarajevo from 1930 to 1932. During this period he came in direct contact with Dr. Ivan Saric, the Catholic Archbishop of Bosnia." The CIA file noted that the archbishop was "perhaps the most rabid opponent of the Orthodox Serbs and the Yugoslav Royal family, which is of Serbian origin, and a vociferous champion of the Independent State of Greater Croatia (which would include all of Croatia, Dalmatia, Bosnia and Hercegovina)."
"It was under the auspices of Archbishop Saric that he [Draganovic] was sent to Rome in 1932 to attend the Instituto Orientale Ponteficio…. He obtained his doctorate in 1935 and returned to Sarajevo, where he acted as secretary to Archbishop Saric from 1935 through 1940. In February 1941 he taught Ecclesiastical History at the University of Zagreb, Croatia.
"There were conflicting reports regarding subject's [Draganovic] activities during the period from April 1941 to August 1943. According to some accounts, shortly after the Independent State of Croatia was established in April 1941 by Ante Pavelic,…via support and approval of Nazi Germany, Subject became a leading figure in the Office for Colonization,…engaged in claiming the property of Orthodox Serbs in
Download


Copyright Disclaimer:
This site does not store any files on its server. We only index and link to content provided by other sites. Please contact the content providers to delete copyright contents if any and email us, we'll remove relevant links or contents immediately.