Dangerous Waters by Radclyffe
Author:Radclyffe [Radclyffe] , Date: March 22, 2018 ,Views: 1384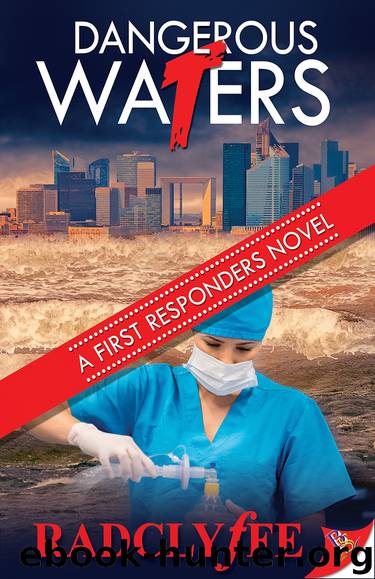 Author:Radclyffe [Radclyffe]
Language: eng
Format: epub
ISBN: 9781635552348
Publisher: Bold Strokes Books
Published: 2018-02-12T05:00:00+00:00



Landfall minus 3.5 days, 4:10 a.m.
Key West Memorial Hospital, Room 110
Dara probably wouldn't have slept anyway, but she couldn't sleep after hearing Sawyer's story. She kept seeing a young child, far too young to be the oldest in any situation, dealing with such terrible trauma and loss. Surviving all that and still risking her life to aid and defend others. Her heart hurt at the same time as it filled with wonder.
Sawyer might've been sleeping, but Dara didn't think so. That preternatural stillness had settled over her again. She didn't turn over, she didn't shift around, she didn't make a sound in her sleep. Dara wondered if that was some kind of learned vigilance that soldiers acquired, or if it was just Sawyer, so contained, so controlled that even in her sleep there was nothing random, nothing unintentional about her actions. Did she ever deviate from her plan, did she ever allow for the unexpected? Of course she did, she had to. She'd have to be able to respond in the midst of chaos to any new threat, any shift in the momentum of the battle. But none of that was random. That was training, precision thinking, instinct honed to the razor's edge.
Sawyer wasn't a machine. She was something far more intricate and powerful.
Dara let out a long breath and hoped she hadn't been tossing and turning and possibly keeping Sawyer awake, but her blood was racing and her heart pounding. She'd been five during Andrew, and she barely remembered it. She couldn't remember being afraid or even seeing her parents acting as if anything was wrong. Of course, her family had had every advantage and convenience available to escape the disaster. She did remember they had flown in her father's helicopter to their summer home out of state. What had been a vacation to her, an exciting trip, had been a nightmare for thousands, and a devastating horror for so many like Sawyer. She wanted to ask Sawyer more—where they'd gone after the shelter, how they'd lived, and where the rest of her family was now, but she couldn't bear to press her for any more details, not when the memory was so clearly still painful, still fresh. There were moments, when Sawyer had been speaking softly in the dark, Dara had felt she was reliving the events rather than just remembering them.
God, she wished she could reach out, comfort her somehow. But she couldn't, could she. Something so personal, so intimate. So risky. Especially when a big part of her wanted to do more than comfort her. She hadn't had a serious interest in anyone in a long time—she'd been too busy, too cautious, too careful about leaving herself open to disappointment. And now, in the worst of circumstances, Sawyer came along and unleashed a storm of emotions and desires she hadn't even realized she'd locked away.
"Are you awake?" Sawyer asked quietly.
Dara caught her breath. Thank goodness Sawyer couldn't have been reading her face in the dark, although she sometimes seemed to be reading her mind.
Download


Copyright Disclaimer:
This site does not store any files on its server. We only index and link to content provided by other sites. Please contact the content providers to delete copyright contents if any and email us, we'll remove relevant links or contents immediately.