UnCatholic Conduct by Stevie Mikayne
Author:Stevie Mikayne [Mikayne, Stevie] , Date: February 24, 2017 ,Views: 953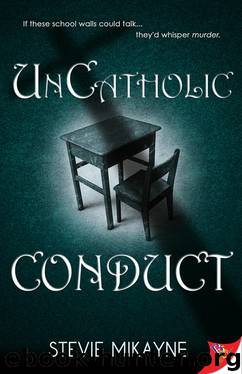 Author:Stevie Mikayne [Mikayne, Stevie]
Language: eng
Format: epub
ISBN: 9781626392816
Publisher: Bold Strokes Books
Published: 2014-11-12T16:00:00+00:00



*
Once at home and changed into comfortable clothes, Jil tucked the box with the wax and seal safely into the top drawer of her desk.
Then she took the ring out of her jacket pocket and studied it. It was beautiful. Expensive. Could it have been from Jess's husband? She held it up, watching the diamond sparkling in the sunlight that streamed through her bay window. It seemed that the ring was making up for all the time it had spent in a box. She studied the inscription on the inside. L.A. & J.B. Who was L.A.? Her husband's initials were M.B. Which was probably why the ring was in a box and not on her finger.
Jil slipped the ring onto the ring finger of her left hand. Watched the diamond sparkle a little longer. Imagined her own diamond ring being placed there. Someday.
She quickly took it off and placed the ring on the table. Now that she had it, she didn't know what she was going to do with it. Presumably, she was the only one who knew it was missing (besides Jess, and the thief himself). She couldn't very well replace it without explaining where she'd found it. Even if she snuck in to her office to replace it, she was sure Jess had scoured the place looking and would never believe she could have overlooked it. She could leave it in her mailbox, but Jess would know it was her.
She thought hard as she opened her laptop and began the first page of the report that would set her free from St. Marguerite's. And by the time she crawled into bed that night, she'd come up with a solution.
The next day, Jil supervised the atrium. She saw Bex walking through on her way to her first period class. Good. She kept the ring in her pocket for all of her prep period, during which she learned that two of the senior science teachers—neither of whom she had met—were married. Really married. Living together. With seven children. They attended church on Sundays and six of their seven children were enrolled in Sunday school. That ticked two off her list. Finally, some good news.
When the bell rang for second period, she stood outside the hall to her classroom. The students filed in. From down the hall, Jil saw Bex approaching, eyes on the ground, as usual, and alone.
Jil quickly dropped one of Marcel's stolen gold bracelets on the ground next to an empty locker, and retreated into the room. She heard Bex stop. Heard her breathe, "Wow."
She came in, nodded to Jil, and took her seat.
"Hi, guys," Jil said. They smiled back. Some yawned. Jordan put his head down on his desk.
"Miss, this winter is seriously long," Joey complained.
"It's only November."
"It's seriously gray, though. There hasn't been sun for like four days."
Jil looked out the window. They were right. It was cloudy, gray, and snowing for the three-hundredth time. "And just think, we've got four more months to go!"
"Miss, can we have like a party or something?" Kyle asked.
Download


Copyright Disclaimer:
This site does not store any files on its server. We only index and link to content provided by other sites. Please contact the content providers to delete copyright contents if any and email us, we'll remove relevant links or contents immediately.