Change in Time by Robyn Nyx
Author:Robyn Nyx [Nyx, Robyn] , Date: January 6, 2018 ,Views: 834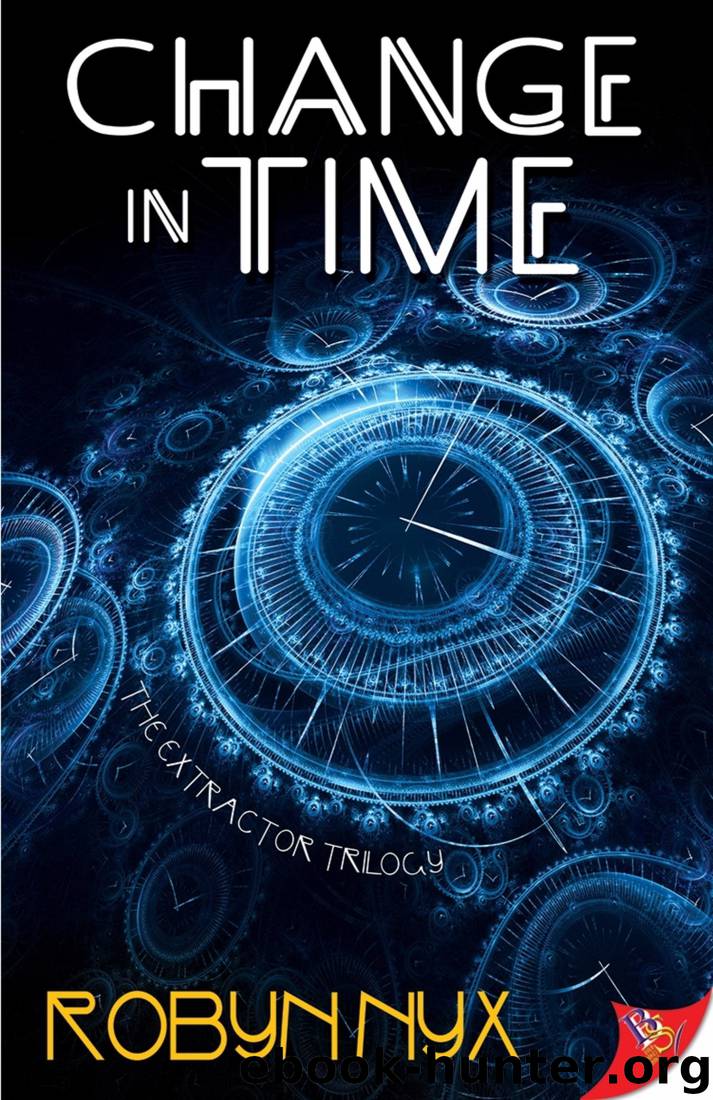 Author:Robyn Nyx [Nyx, Robyn]
Language: eng
Format: epub
ISBN: 9781626398818
Publisher: Bold Strokes Books
Published: 2017-10-17T22:00:00+00:00



Chapter Twenty-eight
Delaney sat alone on the concrete steps in front of the Cancer Survivors Garden pavilion. They had everything they needed to find Muniz. All Delaney needed now was her new team and Landry's buy-in. The day was set, and Landry had given each of the team their zones to work. Delaney and Simson would use the next ten hours to travel to Boystown, pick up some transport, and hire their mercenaries. Perry would start the search for Muniz. Delaney would wait until the debrief to finally ask Landry the billion-dollar question. No matter how it played out or what it took to take Landry down if she wouldn't cooperate, their FBI badges would negate the need for anyone to call the cops.
Delaney pulled out her phone, switched it off, and ejected the SIM card. She slipped it into the card reader and pressed read. It took a few seconds before the screen displayed as connected, and Delaney touched the crack icon. She saved the DAT file and switched the SIM out with a fresh one, cloned the card, and inserted it back into the phone Landry had issued. She slipped the original SIM into an identical phone and placed it in her bag just as she heard the screeching rubber of a bicycle coming to a halt at the base of the steps.
"Delivery for Daley?" The cyclist held up the brown bag in the direction of Delaney.
"That's me." She motioned for the delivery girl to come up to her. When she tilted her head, Delaney added, "It'll be worth it."
She saw the girl frown, but she leaned her bike against the railing and jogged up the steps.
"Take a seat. I've got an offer for you."
"Hey, I'm not sure what you've heard about other delivery companies, but we don't offer any extras."
Delaney smiled and pulled a rolled-up bunch of notes from her pocket. "This is an easy extra." Delaney could see the hesitation in the girl. She looked back down at her bike and then back to Delaney. She placed the food bag on the step beside Delaney and sat down on a step above her, so they were about the same level.
"What's your name?"
"Gina."
"Can you show me the area you usually cover, Gina?" Delaney offered her a Chicago tourist map.
Gina frowned and then traced her finger around an area which included most of the ten blocks Delaney was supposed to be covering. "Why?"
Delaney picked up the phone Landry had given her. "I need you to carry this phone around with you on your deliveries until ten tonight."
"I finish at seven."
Delaney placed the phone back on her bag and counted out two thousand in fifty-dollar bills. She picked the phone up, rolled the notes around it, and held it out for Gina to take. "Maybe you could just ride around for an extra three hours?"
Gina took the package and turned the phone over in her hand. "It's just a regular phone?" It was as much a statement as it was a question.
Download


Copyright Disclaimer:
This site does not store any files on its server. We only index and link to content provided by other sites. Please contact the content providers to delete copyright contents if any and email us, we'll remove relevant links or contents immediately.