Core Performance Women by Mark Verstegen & Peter Williams
Author:Mark Verstegen & Peter Williams [Verstegen, Mark] , Date: July 27, 2020 ,Views: 187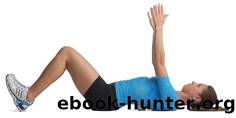 Author:Mark Verstegen & Peter Williams [Verstegen, Mark]
Language: eng
Format: mobi
Publisher: Avery Trade
Published: 2009-12-13T23:00:00+00:00



Eating to recover also refers to healing from wounds and surgical incisions. A proper nutrition program will expedite the healing process, while a poor one could delay healing, leaving you with greater risk of infection and scar formation. Foods rich in vitamins A and C and zinc are especially beneficial when recovering from wounds and surgeries.
Compared to your training session, post-workout nutrition is the easy part. If you don't want to consume a shake, that's fine. Depending on when you work out, just move your regularly scheduled meal or snack to within thirty minutes of your workout. You could even go for some great-tasting chocolate 1% milk. A 16-ounce glass immediately after your workout will jump-start your recovery and keep you on track until your next scheduled mini-meal. If you're someone who trains during lunch hour or before dinner, that's easy enough. Just make sure you get something with a combination of carbohydrates and protein in your system within thirty minutes of training. It will improve your energy, speed your recovery, and keep you feeling great while training day in and day out.
ONE CAVEAT: You never want your body to be deprived of key nutrients, especially when you work out. Yet many people train first thing in the morning on an empty stomach. Don't get me wrong; training is a great way to start the day. In fact, that's my only time to work out. But eat something before your workout, even if it's just half an apple with a handful of nuts, a slice of whole-wheat toast with natural peanut butter, yogurt, or a pre-workout "shooter" consisting of a glass of watered-down orange juice with a scoop of whey protein or simply a glass of water with the scoop of whey.
Recovering from a Bender
Download


Copyright Disclaimer:
This site does not store any files on its server. We only index and link to content provided by other sites. Please contact the content providers to delete copyright contents if any and email us, we'll remove relevant links or contents immediately.