Breaking Free (Delta Force Strong Book 4) by Elle James
Author:Elle James [James, Elle] , Date: March 16, 2021 ,Views: 65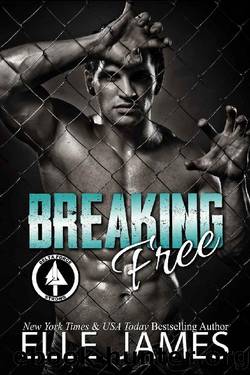 Author:Elle James [James, Elle]
Language: eng
Format: epub
Publisher: Twisted Page Inc
Published: 2021-02-24T18:30:00+00:00



After making love two times in the bed and one time in the shower, Bull sure could have used that thirty-minute nap before they started getting ready to go to the fundraising gala.
Layla shooed him out of the bathroom so she could get ready, taking her dress with her. The garment had been wrapped in a dry-cleaning bag so he couldn't even tell what color it was. She wanted to surprise him.
While she got ready in the bathroom he dressed in the main room. Then he texted Rucker to see how things were going with their preparations to join him at the event.
Bull: Getting ready?
Rucker: Working on it. Didn't anticipate the need for four of us to dress formal. Scrambling, but we found suits in time
Bull chuckled. He could picture the others rushing around town, trying to find suitable attire for a formal event.
Bull: Who's designated inside?
Rucker: Mac, Blade and yours truly. Dawg, Tank, Dash and Lance have perimeter, keeping tabs of people coming and going
Bull smiled. Those were the people he would've chosen to come inside and pull perimeter duty. Well, maybe not Blade. He'd be too busy flirting with the women to notice anything untoward happening.
Rucker: Don't forget your communications devices
Bull: Got 'em
Rucker: Stay vigilant
Bull: Roger. Out
It would be nice to be plugged in with his team throughout the evening, knowing they were there and could hear him if he needed them. And they'd be his extra set of eyes and ears as well as having his back.
Bull was concerned about the evening's events. Any time there were that many foreign dignitaries and government officials in one place, things could happen. He just hoped that if things went down, he could get Layla and her father out before the shit hit the fan.
Bull: What do you know about the outcome of the riot earlier today?
Rucker: Turkish military quelled the uprising. Nearly one-hundred people were arrested or detained.
Bull: That's a lot.
Rucker: You were lucky to get out. Five people died. One crushed to death, four fired upon by Turkish military upon the president's orders
Bull's chest tightened. The people of Turkey wanted change. The president had control of the military. If the people wanted change, blood would be spilled. Bull hoped he could keep Layla out of that line of fire.
But the route she'd chosen was dangerous in itself. Somehow, he had to convince her not to participate with the underground railroad again.
One step at a time.
He had to get her through this evening's gala and back to the embassy alive.
His pulse quickened as he thought about what would happen after they got back to the embassy. He couldn't believe she'd been standing there in front of him when she'd come out of the bathroom earlier. She'd been ready and willing to make love with him. He'd been dreaming about her, about the kiss and wanting more. It was as if he'd been woken from his dream but was still in it when she'd climbed into his lap and kissed him.
Download


Copyright Disclaimer:
This site does not store any files on its server. We only index and link to content provided by other sites. Please contact the content providers to delete copyright contents if any and email us, we'll remove relevant links or contents immediately.