The Billionaire's Secrets (The Sinclairs Book 6) by J. S. Scott
Author:J. S. Scott [Scott, J. S.] , Date: November 23, 2017 ,Views: 3760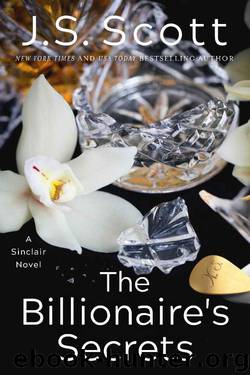 Author:J. S. Scott [Scott, J. S.]
Language: eng
Format: epub
ISBN: 9781477808894
Publisher: Montlake Romance
Published: 2017-11-06T16:00:00+00:00



CHAPTER 16
SAMANTHA
A few weeks later, I watched Xander as we sat around Micah's dinner table with his two brothers and their wives. The conversation had been easy, but I knew Xander wanted to tell his brothers more about the night his parents were murdered.
Micah had invited his brothers over for dinner, and I was pretty sure he was surprised when his youngest brother not only accepted, but asked if he could bring me along.
We were finished with an incredible meal that Tessa had made herself, and were now lingering over dessert and coffee.
I really wasn't worried about how Micah and Julian would react to any of Xander's information. Even though Xander might not always see it, his older brothers loved him, and weren't going to place any blame on him.
I guess I was just hoping he wouldn't beat himself up again. The last few weeks had been a welcome break. Although we'd spent most of our time at home, it had been a more relaxed atmosphere now that we were both completely acknowledging our attraction. We were both insatiable, and it seemed like we could never get enough of each other.
I considered it both a curse and a blessing.
I was happy that he felt the same way I did, but I knew the road I was heading down was a slippery slope to heartache. I already cared more about Xander than I wanted to admit.
It wasn't something I'd planned on.
It wasn't something I was prepared for, either.
Nevertheless, I was crazy about Xander Sinclair, and I felt almost powerless to stop the emotions that were nearly eating me alive. It was more than slightly uncomfortable because I wasn't a woman who was exactly given to emotional extremes. Generally, I knew how to handle almost anything. But with Xander, I was experiencing some powerful stuff that was out of my normal realm of emotions.
Tension had my muscles in knots, and I was anxious for Xander.
As it turned out, Micah was the first one to broach the subject of their parents.
"Liam said you were thinking about going to see Mom and Dad's grave. Did you make it there?" Micah asked cautiously.
Xander nodded as he took a sip of his coffee. "Yeah. I think it was about time I got there. I never got to really say good-bye."
"I think Mom and Dad would forgive you, Xander," Julian said drily. "You were in the hospital trying not to die when they were laid to rest."
Xander shrugged. "It's been years. It was time for me to go. I've been in denial for a long time."
"You okay?" Julian questioned.
"It wasn't easy. I still feel guilty about what happened," Xander answered flatly.
"Why?" Micah's voice was confused.
"I never told either one of you about this, but the guy who killed Mom and Dad wasn't exactly a random killer. He was specifically after me." Xander's voice turned grim as he continued, "He wanted me dead. That's why he tracked me down. It just so happened that I was at their home at the time.
Download


Copyright Disclaimer:
This site does not store any files on its server. We only index and link to content provided by other sites. Please contact the content providers to delete copyright contents if any and email us, we'll remove relevant links or contents immediately.