Brachytherapy by Cormack Robert A. Holloway Caroline Devlin Phillip M. Stewart Alexandra J
Author:Cormack, Robert A.,Holloway, Caroline,Devlin, Phillip M.,Stewart, Alexandra J. , Date: August 5, 2020 ,Views: 176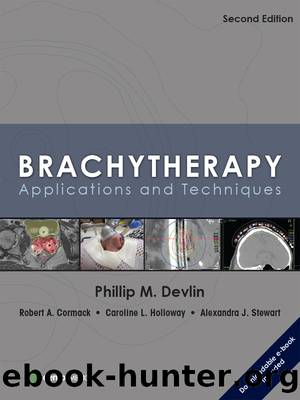 Author:Cormack, Robert A.,Holloway, Caroline,Devlin, Phillip M.,Stewart, Alexandra J.
Language: eng
Format: epub
Publisher: Springer Publishing Company, Inc.
Published: 2016-08-14T16:00:00+00:00



DOSE RATE CONSIDERATIONS: LDR, HDR, AND PDR
The prescribed dose and dose rate are important considerations, which take into account clinical, anatomic, and radiobiologic considerations. Specific dose recommendations by head and neck subsite are discussed in the following text; here we discuss considerations with regard to dose rate.
Historically, LDR brachytherapy was utilized for head and neck brachytherapy, and considerable clinical data demonstrating its safety and efficacy established LDR as the "gold standard." The theoretical advantages of LDR brachytherapy include the continuous exposure of cancer cells to radiation, exploiting cell cycle-specific radiosensitivity, and increased repair capacity of normal tissues, thought to result in a lower risk of late toxicity. When using LDR, a dose rate between 0.3 and 0.6 Gy/hr is recommended to reduce the risk of late complications (11).
There are now mature data to support the use of HDR brachytherapy for several head and neck subsites, although generally these series report on a small to moderate number of patients. The advantages of HDR are an enhanced ability to conform the implant dosimetry to the target volume, the decreased risk of radiation exposure to medical personnel, and better dose distribution homogeneity within the target volume, with potential for less normal tissue irradiation. In addition, because of the decreased radiation delivery time, there is less likelihood of organ movement, and a higher likelihood of treating the patient as an outpatient. Because of radiobiologic differences with a high dose per fraction, the introduction of HDR brought concerns regarding the risk of increased late complications. At this time, there are studies with moderate follow-up demonstrating equivalent oncologic outcomes and late toxicity with HDR as compared to LDR brachytherapy for the most common head and neck subsites, including the nasopharynx, oropharynx, lip, oral tongue, and recurrent neck disease. The data are reviewed under each subsite, but generally speaking, doses between 3 and 4 Gy per fraction are recommended (10,12). Twice-daily fractions are often delivered, with an inter-fraction interval of at least 6 hours.
PDR brachytherapy combines the advantages of a remote afterloading technique with the radiobiologic benefits of LDR brachytherapy (13,14). Patients receive more frequent low-dose "pulses" every 1 to 3 hours in an effort to mimic continuous LDR treatment. The optimal dose per pulse and the time interval between pulses remain under debate. Long-term results have been published for the fractionation schedule that most closely mirrors LDR brachytherapy, consisting of pulses of 0.4 to 0.7 Gy every hour, 24 hours per day (14). These results demonstrate comparable results to LDR brachytherapy with regard to local relapse-free survival (RFS) and complications. Other authors have suggested a slightly higher dose per pulse, delivered once every 3 hours, with or without a night break; however, there are no prospective long-term data as of yet to support this approach (12,15).
Download


Copyright Disclaimer:
This site does not store any files on its server. We only index and link to content provided by other sites. Please contact the content providers to delete copyright contents if any and email us, we'll remove relevant links or contents immediately.