Bob Logan: Gunman at large (Sage Country) by Dan Arnold
Author:Dan Arnold [Arnold, Dan] , Date: May 27, 2023 ,Views: 22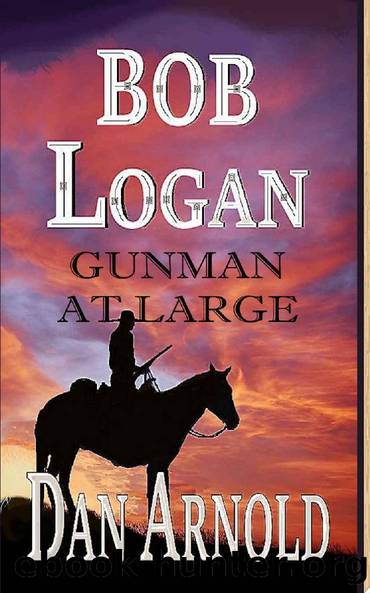 Author:Dan Arnold [Arnold, Dan]
Language: eng
Format: epub
Publisher: Arnold Partners
Published: 2019-04-30T22:00:00+00:00



Chapter 20
In the summer of 1865, Kansas City was an industrious metropolis. It boasted a population of about ten thousand people. Progress and prosperity were evident on the city streets, which were laid out in a four-square pattern.
When I'd first come west, someone told me the newly arrived Missouri Pacific Railroad, in the process of continuing the westward expansion of the line, was about to build a bridge across the river.
A short walk from the stage and the fancy looking railroad depot, I found the Manchester Hotel to be just as Heather Winslow described it.
I was doubly pleased to learn it was in close proximity to the offices of the Barlow, Sanderson Company.
Once checked in, I left my rifles and saddlebags on the bed and returned to the street. Outside, I paused on the boardwalk. Maybe I didn't need the crutch for the short walk to Barlow and Sanderson. A trip back up the stairs should answer the question.
I took one step at a time and it wasn't too bad. After leaving my crutch in the room, I discovered going down the stairs hurt worse than going up. Still, holding on to the rail and moving slowly, I got the job done.
When I limped into Barlow and Sanderson, I was only sweating a little.
When I introduced myself to Bradley Barlow and Jared Sanderson, I was pleased they said nothing about my age, the limp or my rumpled appearance.
"How may I be of service, gentlemen?"
Brad Barlow said, "We're on the verge of expanding our line all the way to California. By the end of this year we'll be running from here to Colorado, and starting next year, our offices will be out there.
Presently, we continue our operations locally. We run stages down to St. Louis and back, serve surrounding communities, and so on. These last few years have been rough. With the war over, we were hoping things would improve. They haven't."
Before I could inquire further, Jared Sanderson picked up the narrative.
"We've had our coaches held up six times in the last month, to say nothing of Indian trouble out west."
"I see. I'm not sure I understand how the Pinkerton Detective Agency can be of service."
"Right. Sorry, I'll get to the point." Brad Barlow said.
"Passenger service is only a part of our income. We also operate as an express company and we have contracts with the Federal government to carry and deliver the U.S. Mail. If this kind of trouble persists, we could lose those contracts."
I thought about it for a moment, but I still couldn't see how I could help in my capacity as a detective.
Seeing the bewildered look on my face, Jared Sanderson said, "Mr. Logan, we believe these stagecoach robberies are the work of Confederate sympathizers."
"Ah, I see. Still, I'm not sure how we can help. The country is staggering in the aftermath of the war, and the assassination of President Lincoln. There are displaced and desperate people everywhere. Some are forced to turn to crime as a means of survival.
Download


Copyright Disclaimer:
This site does not store any files on its server. We only index and link to content provided by other sites. Please contact the content providers to delete copyright contents if any and email us, we'll remove relevant links or contents immediately.