01 The Rising by Tim Lahaye
Author:Tim Lahaye , Date: April 5, 2018 ,Views: 1450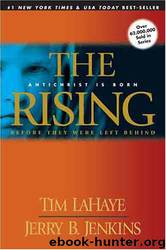 Author:Tim Lahaye
Language: eng
Format: mobi
Tags: Christian
ISBN: 9780842361934
Publisher: Tyndale House Publishers, Inc.
Published: 2005-09-02T05:00:00+00:00



As a sophomore Ray Steele began to come out of his shell. Besides his mother and his doctor conspiring and finally hitting upon the right medication for his face, Ray's growth spurt slowed enough that he began to feel as graceful in the hallways as he did while playing sports. He recognized that girls seemed to notice him, greet him, maintain eye contact. He had to work at keeping his mind on class and homework, as the opposite sex monopolized his thoughts.
F O U R T E E N
"FAX FOR YOU, sir," Jonathan Stonagal's chauffeur announced.
Stonagal caught Fredericka's eye and nodded toward the machine humming in the backseat of the stretch Bentley as it waited at a light in midtown. He noticed she folded the sheet vertically without so much as a glance at it, then handed it to him.
J.S.:
Bearer unimpressed at worst, indifferent at best.
R.P.
Stonagal slowly and precisely tore the fax into neat pieces and handed them to Fredericka. "Ask Planchette how crucial the mother is," he whispered.
The relationship between Marilena and Viv Ivins had finally begun to chill. After years of partnership in raising Nicky, the women's rapport had begun to fray.
It began when Marilena discovered that the brand-new SUV provided by the spiritualism association—through the largess of Jonathan Stonagal, of course—had been registered in Viv's name. "Why must it belong to either of us?" Marilena said.
"It means nothing," Viv said. "It's just a convenience, a technicality. If it needs work or anything, it's good to have it in one of our names."
"Then why not mine?"
"Who cares? What's the difference?"
"It should have been at least in both our names," Marilena said.
"You're the one so disinclined to our being mistaken for lesbians," Viv said.
"Why couldn't the vehicle have been registered to Mr. Planchette or the association or to one of Stonagal's companies?"
"Honestly, Marilena, what is your problem? This seems petty, even for you."
Even for you? What did that mean? Viv thought Marilena was petty as a rule?
"I just feel like an outsider, that's all. I am part of the association too. I come to the meetings. I'm raising Nicky the way I said I would. Why am I treated like a fifth wheel?"
Viv just shook her head. Worse, she had not responded well to the i.e. of only spelling Marilena as Nicky's daily driver. "Why don't we trade off?" she said. "I could take every other day. Or one of us could take him and the other pick him up."
"Forgive me if I want a couple of uninterrupted hours with my own son!" Marilena said. "You have enough influence on him, and I appreciate that; I really do. But I can teach him what you want taught, and frankly, he and I need to bond more. I think the boy is confused about who's who around here."
Viv muttered under her breath.
"What?"
"Don't ask."
"I'm asking. What are you complaining about?"
"I'm just saying," Viv said, "that I always have the recourse of Reiche arbitrating this."
Marilena closed her eyes. "You don't even want to start with me on that.
Download


Copyright Disclaimer:
This site does not store any files on its server. We only index and link to content provided by other sites. Please contact the content providers to delete copyright contents if any and email us, we'll remove relevant links or contents immediately.