Blood and Sand by Alex Von Tunzelmann
Author:Alex Von Tunzelmann , Date: January 4, 2018 ,Views: 2371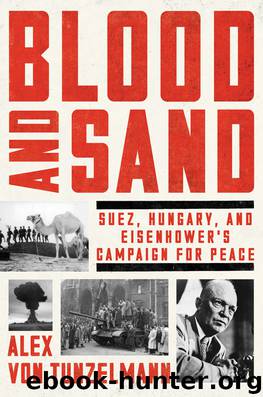 Author:Alex Von Tunzelmann
Language: eng
Format: epub
Publisher: HarperCollins
Published: 2016-09-12T04:00:00+00:00



11
THURSDAY, NOVEMBER 1, 1956
"THERE IS SOMETHING THE MATTER WITH HIM"
0700 Moscow
Before dawn in Moscow, an emotional Anastas Mikoyan returned from Budapest and went in person to Khrushchev's house in the Lenin Hills. He hoped to make a last attempt to persuade the Soviet leader not to smash Hungary.
"Do you think it's any easier for me?" Khrushchev said. "We have to act. We have no other course."
"If blood is shed, I don't know what I'll do with myself," shouted Mikoyan.
"That would be the height of stupidity, Anastas," replied Khrushchev, who apparently thought his comrade had just threatened suicide (Mikoyan recalled later that he was merely threatening to resign). "You're a reasonable person. Think it over, take all the factors into account and you'll see we've made the right decision. Even if there is bloodshed, it will spare us bloodshed later on. Think it over and you'll understand."1
The Soviet leader got into his limousine and drove away.
0600 London // 0800 Cairo
"I woke up early to the sound of exploding bombs," wrote the Egyptian politician Abdel Latif al-Baghdadi.2 Over the night of October 31 to November 1, British planes bombed four Egyptian airfields—belatedly fulfilling their agreement with the Israelis to knock out Nasser's air cover. Early on the morning of November 1, nine more airfields were hit. The British government claimed these hits were accurate and avoided any civil damage,3 which was not true: they were wildly inaccurate. They did have a small positive effect from the point of view of the Anglo-French operation, for they helped demoralize the Egyptian air force.4 "The affairs of Britain seem now to be in the hands of a madman," read the editorial in the Egyptian Gazette that morning.5
Nasser was in a better mood, "even lively," wrote Baghdadi.6 He declared general mobilization and martial law. "We shall fight and we shall not surrender," he said in a broadcast. "We shall fight from village to village, from place to place."7 That same morning, Nasser and Abdel Hakim Amer called off Operation Beisan—the planned attack on Israel by Jordan and Syria. The Syrian forces that had turned up in Jordan following the call for mobilization were poorly trained and equipped. The Jordanian chief of staff, Ali Abu Nawar, had not thought them up to slicing Israel in half. Most in the Jordanian government were intensely relieved not to have to invade Israel—apart from King Hussein himself, who had been raring to go. According to Nasser's friend Mohamed Heikal, King Hussein telephoned Nasser that day and told him that he would go ahead with Operation Beisan without Syrian help. "But Nasser begged him not to, saying that they were facing something much bigger than an Israeli attack and that it was essential for the Jordanian Army to be kept intact."8
Some years later, Abu Nuwar remembered "when Nasser said 'stop' and the King was urging me every minute to attack, I said 'no, Your Majesty, this would be suicide."9 Nasser eventually managed to get the king to agree to an indefinite postponement of the operation.
Download


Copyright Disclaimer:
This site does not store any files on its server. We only index and link to content provided by other sites. Please contact the content providers to delete copyright contents if any and email us, we'll remove relevant links or contents immediately.