Red Famine: Stalin's War on Ukraine by Anne Applebaum
Author:Anne Applebaum [Applebaum, Anne] , Date: October 12, 2017 ,Views: 2253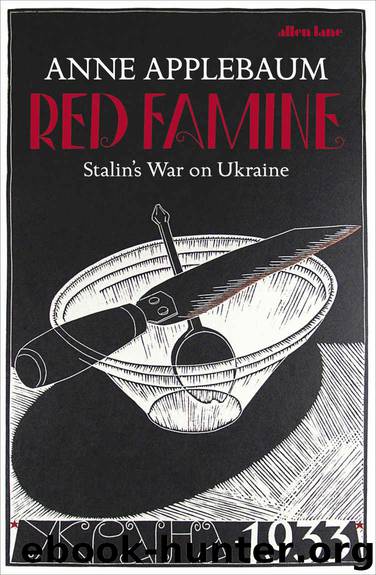 Author:Anne Applebaum [Applebaum, Anne]
Language: eng
Format: epub, azw3
ISBN: 9780141978277
Publisher: Penguin Books Ltd
Published: 2017-09-06T18:30:00+00:00



10
Famine Decisions, 1932: The Searches and the Searchers
I'm no longer under a spell, I can see now that the kulaks were human beings. But why was my heart so frozen at the time? When such terrible things were being done, when such suffering was going on all around me? And the truth is that I truly didn't think of them as human beings. 'They're not human beings, they're kulak trash' – that's what I heard again and again, that's what everyone kept repeating …
Vasily Grossman, Everything Flows, 19611
Long before collectivization began, the phenomenon of the violent expropriator – a man who brandished a gun, spouted slogans and demanded food – was familiar in Soviet Ukraine. Such men had appeared in 1918 and 1919, looking for grain to feed their armies. They had appeared again in 1920, when the Bolsheviks returned to power. They came back in 1928 and 1929, as a new wave of food shortages began. In the winter of 1932–3 they were back again, but their behaviour had changed.
Unlike the other measures aimed at Ukraine in 1932–3, no written instructions governing the behaviour of activists have ever been found. Perhaps they were not put to paper, or perhaps they were destroyed along with other archival materials from Ukraine in this period, which, at the provincial and district level, are far sparser than those from the same period in Russia. Nevertheless, a remarkably consistent oral history record shows a sharp change in activists' behaviour on the eve of the Holodomor.
That winter the teams operating in villages all across Ukraine began to search not just for grain but for anything and everything edible. They were specifically equipped to do so with special tools, long metal rods, sometimes topped by hooks, that could be used to prod any surface in search of grain. The peasants had many different names for these instruments, calling them iron wires, cudgels, metal sticks, sharp sticks, rods, lances, spears and spokes.2 Thousands of witnesses have described how they were used to search ovens, beds, cradles, walls, trunks, chimneys, attics, roofs and cellars; to pry behind icons, in barrels, in hollow tree trunks, in doghouses, down wells and beneath piles of garbage. The men and women who used them stopped at nothing, even trawling through cemeteries, barns, empty houses and orchards.3
Like the requisitioners of the past, they were looking for grain. But in addition they also took fruit from trees, seeds and vegetables from kitchen gardens – beets, pumpkins, cabbages, tomatoes – as well as honey and beehives, butter and milk, meat and sausage.4 Olha Tsymbaliuk remembered that the brigades took 'flour, cereals, everything stored in pots, clothes, cattle. It was impossible to hide. They searched with metal rods … they searched in stoves, broke floors and tore away walls.'5 Anastasiia Pavlenko recalled that they took a bead necklace from her mother's neck, assuming it contained something edible.6 Larysa Shevchuk saw activists take away beet and poppy seedlings that her grandmother was cultivating to plant in her vegetable garden.
Download


Copyright Disclaimer:
This site does not store any files on its server. We only index and link to content provided by other sites. Please contact the content providers to delete copyright contents if any and email us, we'll remove relevant links or contents immediately.