Red Notice by Bill Browder
Author:Bill Browder , Date: August 3, 2017 ,Views: 1393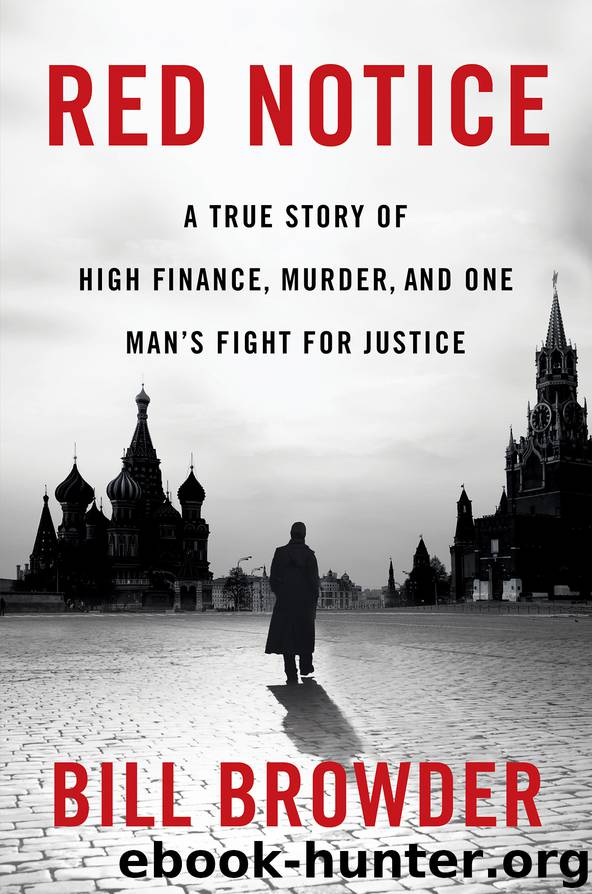 Author:Bill Browder
Language: eng
Format: epub
Publisher: Simon & Schuster



23
Department K
Ivan and I took the 3:00 p.m. Eurostar back to London. We needed to talk out of earshot, and the only place available was between cars, where we sat uncomfortably on fold-down jump seats. Northern France churned by just outside the door, a blur of green and gray. We tried to call Moscow and London, but the connection kept dropping out as the train zipped in and out of tunnels, so we gave up and went back to our seats, where we sat in silence for the rest of the journey. Although I'd known Russia was a violent place, since the day that I'd set foot on Russian soil in 1992 it had never touched me, or anyone close to me. Now, all of a sudden, it was all too real.
My first concern was Maxim. As soon as I got home, I called Jamie and asked for an update. After Maxim had been beaten, the police had arrested and fined him, even before he was taken to the hospital. Thankfully, his injuries were not life-threatening. I implored Jamie to file a complaint, but he resisted. "Maxim's scared, Bill. The officers who beat him said that they'd accuse him of pulling a knife on them, rearrest him, and put him in jail if he says anything."
How could I argue with that? At least he was going to be all right.
I arrived at the office early the next morning. Ivan was already there, inspecting a handwritten copy of the search warrant that Emma had faxed over. Her handwriting was obsessively clear and still had the bubbly letters of a schoolgirl's, but the content of the warrant was anything but innocent. It said that the tax crimes department of the Moscow Interior Ministry had opened a criminal case against Ivan, accusing him of underpaying $44 million in dividend withholding taxes for Kameya. They came up with an arbitrary tax claim for the company, and because Ivan administered the entity for our client, the police blamed Ivan.
No matter how illegitimate the Russian criminal justice system may seem from the outside, Russia is still a sovereign state that most Western governments cooperate with on extradition requests, Interpol Red Notices, and international asset freezes. Even though we were in London, ignoring a criminal case like this could lead to all sorts of terrible things for Ivan.
The warrant was baseless—Kameya had paid the same rate of tax as everyone else—and accusing Ivan of any crime was plainly unjust. If there was ever a person who lived by the rules, it was Ivan Cherkasov. He was a good husband, father, friend, and colleague. His suits were always pressed, his hair was always trimmed, and he was always on time. Watching him pace the office because of this trumped-up charge was infuriating, and I promised I would do whatever I could to help him sort out this mess.
The first thing I did was to retain the best tax lawyer I knew in Moscow, a thirty-five-year-old attorney named Sergei Magnitsky.
Download


Copyright Disclaimer:
This site does not store any files on its server. We only index and link to content provided by other sites. Please contact the content providers to delete copyright contents if any and email us, we'll remove relevant links or contents immediately.