All the Kremlin's Men by Mikhail Zygar
Author:Mikhail Zygar , Date: March 15, 2017 ,Views: 1523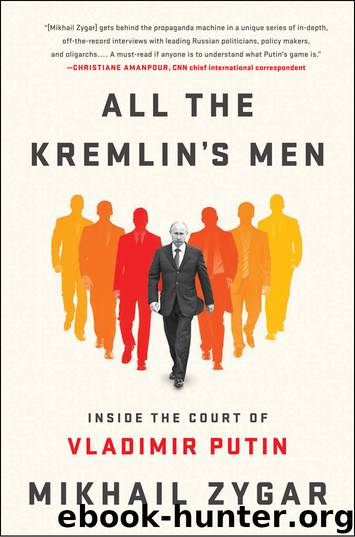 Author:Mikhail Zygar
Language: eng
Format: epub
ISBN: 9781610397407
Publisher: PublicAffairs
Published: 2016-07-10T16:00:00+00:00



CAPTAIN HOOK
Sechin's transformation into a public politician was a surprise for everyone, since his strength stemmed from his proximity to the president and ability to play administrative games. During Putin's first term Sechin had been the president's personal secretary and the first person to greet him each morning. It was Sechin who energized the president, looked after his schedule, and wrapped up the daily business. Moreover, Sechin's power was doubled by the fact that he followed almost medieval rituals of loyalty to his boss, which drew him close and made him invulnerable. No one else in the presidential administration, for instance, took the time to accompany the president to the airport and meet him there on his return, but Sechin did.
After Putin moved to the government, Sechin did everything possible to become head of the government staff and remain close to his mentor. However, he was stymied by Dmitry Medvedev, who could not allow his sworn enemy to occupy a key position in the government. So Putin had to "exile" Sechin to the energy sector.
Medvedev and Sechin's mutual loathing was no secret. One day Sechin and his wife and friends gathered for a friendly dinner (the location was chosen by Sechin's wife, Marina). The others arrived earlier than Sechin, who was late. When he arrived, he angrily demanded that they go to a different restaurant: "You've picked a fine spot. Can't you see that's Medvedev over there in the corner?"
But publicly Sechin demonstrated absolute loyalty and even servility, not only to the former president but also to the new one. This was manifested in petty details. During long flights on foreign visits, officials usually dressed in more comfortable clothes, such as a track suit and slippers. So did Sechin, but never in the presence of the president. Accompanying Medvedev, he was always attired in a suit and tie.
Sechin's influence was not only due to his proximity to Putin. The latter had many dancing attendance on him, but it was Sechin who became the "spiritual leader" of the siloviki. After Sechin initiated the Yukos case and dispossessed Mikhail Khodorkovsky, he surrounded himself with an informal team of people from the security services, who considered it their duty to make the oligarchs share their ill-gotten gains, describing it as "velvet reprivatization."
"President Putin said that big business should be socially responsible to the state. So our colleagues from the FSB decided to set up an organization to bend the Khodorkovskys of this world into shape," explained Oleg Shvartsman, a businessman and an active participant in the scheme, in 2007 in an interview with Kommersant.2 He said that Sechin managed to consolidate a vast number of active members and veterans of the security services and the Russian armed forces (around 600,000 people in total).
They were united less by the desire for profit than by common beliefs. The siloviki considered the "loans for shares" scheme to be a great evil, and the assets sold in the "wild 1990s," in their view, belonged to the state.
Download


Copyright Disclaimer:
This site does not store any files on its server. We only index and link to content provided by other sites. Please contact the content providers to delete copyright contents if any and email us, we'll remove relevant links or contents immediately.