Putin's Labyrinth: Spies, Murder, and the Dark Heart of the New Russia
Author:Steve Levine , Date: March 25, 2014 ,Views: 1341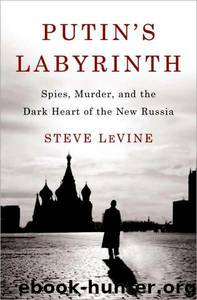 Author:Steve Levine
Language: eng
Format: mobi
ISBN: 1400066859
Publisher: Random House
Published: 2008-08-19T10:00:00+00:00



The Russian edition of Godfather of the Kremlin became a nonfiction bestseller, with 110,000 copies sold. Klebnikov tried to repeat that success with a book based on fifteen hours of taped conversation with a well-known Chechen warlord named Khozh-Ahmed Nukhayev. The man had been a debonair law student in Moscow and then a mobster before becoming a Chechen guerilla fighter and finally an anti-Western Islamic fundamentalist. But the book, Conversation with a Barbarian, was a flop, selling only six thousand copies.
Still, Klebnikov's writings about Berezovsky had impressed his editors. They offered him the editorship of his own magazine, a Russian-language version of Forbes, and he readily accepted. All these years, Klebnikov had been flying from the United States and elsewhere to Moscow to do his reporting, then returning home. Now he could live in the Russian capital.
The forty-year-old Klebnikov, handsome, with piercing hazel eyes and a shock of brown hair, plunged headlong into his new assignment. He threw a champagne party for the magazine's launch, at the five-star Baltschug hotel on the Moscow River. And he set in motion an editorial project that was breathtaking by Russian standards—an American-style listing of the country's wealthiest citizens. It would throw the spotlight on Russia's profiteers and surely offend the gangster element that would be well represented on the list. Klebnikov's brainstorm seemed impossible to execute. How could anyone assemble such a list in a country where personal wealth is hidden from view, largely stashed in offshore accounts under false names? Yet Klebnikov and his team somehow succeeded, and the resulting layout, "The Golden Hundred," was an instant sensation. It appeared in the magazine's second issue, in May 2004, and catapulted Forbes Russia into the top tier of the country's business magazines.
One might expect Klebnikov's editorial daring to have triggered threats of physical retaliation; death threats had been quick to follow publication of "Godfather of the Kremlin?" in the magazine's U.S. edition. But I could find no record of any threats against Klebnikov while he edited Forbes Russia. This was somewhat puzzling. As Leonid Bershidsky, his publisher in Moscow at the time, observed, "He was doing investigative stories and was making enemies with every story."
Klebnikov now moved about Moscow without bodyguards, outwardly confident that he was in no personal danger. He was heartened by Boris Berezovsky's self-exile in London and the firm rule of Vladimir Putin, now president of Russia. A fresh breeze was blowing through the country, he thought. But the private Klebnikov seemed somewhat ambivalent about security conditions. His wife and their three children had remained in the United States; she didn't want to live in Russia and Klebnikov had agreed to take the job for just a year. When a visitor asked why his family was not with him, he replied, "I don't know if it is safe for my family."
Bershidsky, technically Klebnikov's boss at Forbes Russia, was employed by Newsweek when I first met him in Moscow in the early 1990s. I was writing for the magazine and he was a "fixer," on call to translate and solve any problems encountered by its reporters.
Download


Copyright Disclaimer:
This site does not store any files on its server. We only index and link to content provided by other sites. Please contact the content providers to delete copyright contents if any and email us, we'll remove relevant links or contents immediately.