Art and Revolution by John Berger
Author:John Berger [Berger, John] , Date: May 18, 2017 ,Views: 1260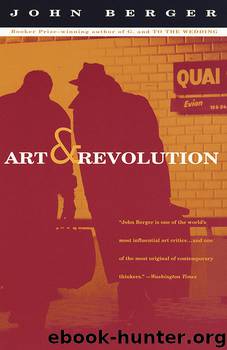 Author:John Berger [Berger, John]
Language: eng
Format: epub
ISBN: 978-0-307-79431-4
Publisher: Knopf Doubleday Publishing Group
Published: 2011-04-26T16:00:00+00:00



Whirlwind
Lovers in Whirlwind
Couple in Whirlwind
Minotaur
Hand of Hell
Strange Birth
Human Anatomy
Reclining Woman
* The Brothers Karamazov. Translated by David Magarshack. Penguin Books, 1958.
* For further detailed information about the birth of modern art in Russia, see Camilla Gray's pioneering and informative book The Great Experiment: Russian Art 1863–1922 (Thames & Hudson, 1962).
* 'The Moment of Cubism', New Left Review, no. 42, 1967.
* Das Kunstblatt XIV, 1930, p. 57.
* The 150,000,000, 1919–20. Translation by Anna Bostock.
* Vladimir Mayakovsky. An Order to the Art Army, December 1918. Translated by Anna Bostock.
* Philip O'Connor. Journal. To be published by Jonathan Cape.
* Druzhba Narodov, 1960, no. 4. This letter is quoted by Ernst Fischer in Art and Ideology (to be published by Allen Lane The Penguin Press and George Braziller, New York), and Fischer discusses the questions raised by it at greater length than I can do here.
* Sketches from a Hunter's Album. Translated by Richard Freeborn. Penguin Books, 1967.
* Jacques Lipchitz. Cahiers d'Art. 1935. Translation by author.
* Isaac Deutscher. Stalin. Revised edition, Penguin Books, 1966, pp. 610–11.
Download


Copyright Disclaimer:
This site does not store any files on its server. We only index and link to content provided by other sites. Please contact the content providers to delete copyright contents if any and email us, we'll remove relevant links or contents immediately.