Angry White People by Hsiao-Hung Pai
Author:Hsiao-Hung Pai , Date: September 16, 2020 ,Views: 40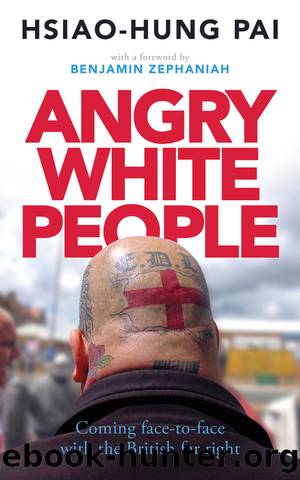 Author:Hsiao-Hung Pai
Language: eng
Format: epub
Publisher: Zed Books
Published: 2016-09-14T16:00:00+00:00



5
THE CHANGING FACES OF THE RADICAL RIGHT
Given our last conversation, I was more than surprised to hear about Tommy Robinson's departure from the EDL in October 2013. He decided to quit his leadership position and leave the group altogether. The most sensational part of the story was that his announcement was made during a press conference held by Maajid Nawaz* from the Quilliam Foundation, the pre­viously government-funded counter-extremism think tank.
Robinson looked concerned as he spoke to the press: 'We [Robinson and Kevin Carroll] have decided to leave the EDL because we feel we can no longer keep extremists away.' He then said that he was to work with Quilliam, to 'combat Islamic extremism'. He said he opposed extremism at both ends of the spectrum. 'I have been considering this move for a long time because I recognize that, though street demonstrations have brought us to this point, they are no longer productive. I acknowledge the dangers of far-right extremism and the ongoing need to counter Islamist ideology not with violence but with better, democratic ideas.'
Robinson made a statement to the EDL about his resig­nation: 'I need to make it clear that I left the EDL because I was spending too much time trying to keep goose-stepping white-pride morons away from our demos and not enough time actually doing anything to stop the advance of Islamic extremism. I wanted to make sure our legitimate concerns were not ignored because Nazi morons destroyed our voice in mainstream politics and media.'
The EDL website responded: 'End of the party for EDL? No, it's only the beginning.'
I was surprised because, only two months prior to these statements, Robinson told me, 'The EDL has created the biggest street movement Britain has ever seen.' He never expressed any opposition to the neo-fascist elements of that movement, nor any wish to leave the group. Similarly surprising was that Quilliam came out supporting Robinson and legitimizing his anti-Muslim politics by publicizing their plans to work with him. Eagerly, Maajid Nawaz equates radical Islam with neo-fascism: 'We hope to help Tommy invest his energy and commitment in countering extremism of all kinds, supporting the efforts to bring along his former followers and encouraging his critique of Islamism as well as his concern with far-right extremism.'
The former leader of a far-right movement was suddenly a liberal who believes 'Islamic fundamentalism' deserves the same social condemnation as fascist skinheads.
Arun Kundnani, author of The Muslims Are Coming!: Islamophobia, Extremism, and the Domestic War on Terror, was not surprised about Quilliam. The founders of Quilliam have embraced the government's anti-extremism initiatives under the Preventing Violent Extremism programme (nicknamed the government's 'Islam policy'). It was one of the 'Muslim organ­izations' to be integrated into the government's surveillance apparatus. It supports the official line that 'ideology [i.e. religion] is driving radicalization' and foreign policy is of little relevance, said Kundnani.
In order to get funding, Quilliam once drew up a document that argued for tackling 'a broader Islamicist ideology' and featured a list of groups to be
Download


Copyright Disclaimer:
This site does not store any files on its server. We only index and link to content provided by other sites. Please contact the content providers to delete copyright contents if any and email us, we'll remove relevant links or contents immediately.