All She Wrote by Josh Lanyon
Author:Josh Lanyon [Lanyon, Josh] , Date: March 26, 2014 ,Views: 663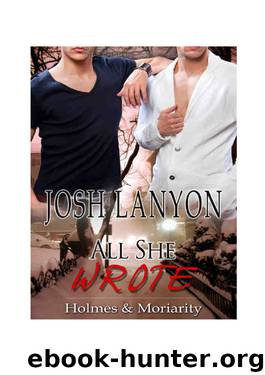 Author:Josh Lanyon [Lanyon, Josh]
Language: deu
Format: epub, mobi
Tags: erotic MM, Romance MM
Published: 2011-04-04T17:30:26+00:00



Oh God.
"Anna?"
I knelt beside the cloud of lace and rayon, reaching for her arm. Her skin was still warm.
Was she breathing? I couldn't tell. I felt around the delicate bones of her wrist, trying to find some kind of pulse. As my fingers closed around her wrist, she moaned and tried to raise her head.
The relief had me falling back on my ass. I'd thought for sure…
"Take it easy, Anna. Help is on the way."
"Poison," she wheezed. "I've been poisoned."
"Everyone has been poisoned." Everyone but me. What did that mean? What had everyone else eaten that I hadn't? Nothing as far as I could recall. I'd eaten everything and eaten heartily. What can I say? Death and disaster give me an appetite.
Download


Copyright Disclaimer:
This site does not store any files on its server. We only index and link to content provided by other sites. Please contact the content providers to delete copyright contents if any and email us, we'll remove relevant links or contents immediately.