Advanced Strength and Conditioning by Anthony Turner & Paul Comfort
Author:Anthony Turner & Paul Comfort , Date: November 8, 2017 ,Views: 1781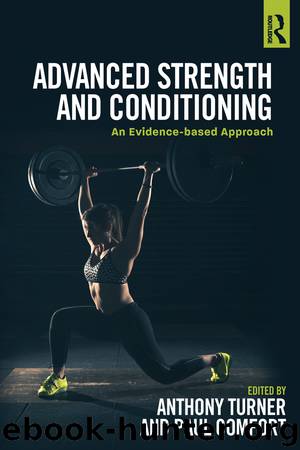 Author:Anthony Turner & Paul Comfort
Language: eng
Format: epub
Publisher: Routledge



Compression garments
Compression garments are increasingly used within sport. It is claimed that their use can improve recovery from strenuous exercise (Hill et al., 2014a). The purported physiological benefits may be linked to the creation of an external pressure gradient and/or enhanced blood flow that both may reduce swelling, and/or enhance the removal of waste products and muscle metabolites (Hill et al., 2014a).
Similar to other recovery interventions, the results are equivocal, which is likely due to the variety in mode of exercise, application of the garment, training status of participants and/or outcome measures utilised. In a recent meta-analysis, Hill et al., (2014a) found that when compression garments are worn after, or during and after strenuous exercise, there is a moderate benefit in reducing muscle soreness and CK concentrations, and improvements in recovery of muscle strength and power. However, in the same year, the same group demonstrated that the use of a lower limb compression garment worn for 72 hours after a marathon had no effect on improving recovery of muscle performance or the removal of serum markers of muscle damage and inflammation (Hill et al., 2014b). There was, however, a significant reduction in perceived levels of muscle soreness at 24 hours in those that wore the compression garment.
There may be many reasons for the conflicting findings, however; much of the discrepancy in results has been linked to the pressure exerted by the garment. A variety of compression garments are utilised in research and the pressure applied, which is not routinely reported, is significantly affected by garment type, size and posture assumed by the athlete (Brophy-Williams et al., 2015). In respect of this, recent research has demonstrated that the pressure exerted likely plays a role in the efficacy of compression garments. Hill et al., (2017) compared the effectiveness of high (14.8 ± 2.2 mmHg at the thigh; 24.3 ± 3.7 mmHg at the calf) and low (8.1 ± 1.3 mmHg at the thigh and 14.8 ± 2.1 mmHg at the calf) compression garments on recovery following drop jumps. The authors concluded that the pressure exerted by a compression garment did affect recovery following EIMD, with a higher pressure more beneficial for recovery of muscle function (Hill et al., 2017), a key consideration for applied practitioners and athletes.
Although there is evidence to suggest garments that exert high pressures are more effective for recovery, there are large variations in the degree of pressures exerted across a population. This is likely due to differences in limb and tissue size (Hill et al., 2017). However, athletes must be aware that higher does not necessarily equal better, and there may be an optimal level of pressure required. Although low levels of compression may be insufficient to impact on physiological processes such as blood flow and osmotic pressure, compression that is too high may restrict blood flow (Hill et al., 2017) and thus negatively impact on recovery. Defining the optimal level of pressure is difficult due to reasons previously discussed (individual variation in limb and tissue size).
Download


Copyright Disclaimer:
This site does not store any files on its server. We only index and link to content provided by other sites. Please contact the content providers to delete copyright contents if any and email us, we'll remove relevant links or contents immediately.