A Stand-Up Guy by Michael Snyder
Author:Michael Snyder [Snyder, Michael] , Date: January 20, 2023 ,Views: 30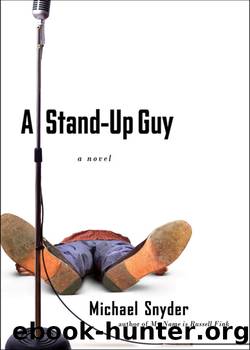 Author:Michael Snyder [Snyder, Michael]
Language: eng
Format: epub
ISBN: 978-0-310-32277-1
Publisher: Zondervan
Published: 2011-01-15T00:00:00+00:00



Chapter Twenty-Four
OLIVER COULDN'T FIND His NOTEBOOK anywhere. He'd turned his house upside down, searched his car three times, and had called the hotel twice. But the front-desk manager assured him that it still wasn't in the lost-and-found box. His search had turned ridiculous, as he was now double-checking places like the refrigerator and bathtub. Oliver was searching the pantry when the phone rang. After exchanging a few pleasantries he said, "Have you seen my spiral notebook, Simon?"
"Yep."
"Lately?"
"Nope. So anyway, I hear you're on the docket tonight?"
"The insurance convention?"
"That's the one," Simon said. "And you're very welcome."
"Um, thanks?"
"Whimbush had to back out. Then I ran into your so-called manager at Jesters one night and I put in the good word for you about this gig."
This only confirmed what Oliver suspected. Barry hadn't ferreted this gig out on his own. Someone had canceled and the promoter was forced to go to the bench, to find a second-stringer and put him in the lineup.
"Thanks for thinking of me."
"Think you could express your gratitude in the form of a ride?"
"Your place is not exactly on the way."
"It is now. I'm staying at my uncle's for a while."
Fifteen minutes later, Simon piled into Oliver's Integra and snapped his seatbelt into place.
Oliver said, "So what happened to your car?"
"Donna kept it."
"Donna the stewardess girlfriend?"
"Donna the ex."
"What happened?"
"She found out about your little assistant friend."
"Wendy?" Simon nodded with a big stupid grin. "So why can't she give you a ride?"
"She found out about Donna."
As soon as Oliver saw the room he considered bailing out. The stage was no mere afterthought, nothing like the six-inch platforms wedged into corners between tables at his local comedy haunts. This was a massive structure, three feet off the ground, painted black and replete with monitors and a rack of blinding gel lights. And there wasn't a blue collar in sight. No beer mugs or rude waitresses or comedy groupies. It was a roomful of suits and ties and champagne flutes.
Simon elbowed him in the ribs. "Pretty cool, eh?"
"If you say so."
"Oh, that's right. I forgot about your stage fright."
Oliver had long since conquered his fear of speaking in public. But he did still harbor a handful of more specific fears, one of which was lofty, wide-open stages in well-lit rooms. But he didn't have time to obsess over it because the mustached master of ceremonies was approaching."Childress, right?"
Simon nodded and accepted a stack of paperwork.
"And you must be Miles?"
"That's me."
"Thanks for helping us out on such short notice. Trust me. You're going to have a ball."
"What's this?" Oliver said, scanning the handful of pages.
"Just a few formalities. The first is a waiver in case one of those lighting trusses falls and caves your head in. Then there's a tax form in there somewhere, and a check. And that last bit there is the list of topics."
"Topics?" Oliver said.
The emcee laughed, obviously pleased that the promoter had sent him such a funny, funny man. He gave Oliver a hearty pat on the back and was off to shake other hands.
Download


Copyright Disclaimer:
This site does not store any files on its server. We only index and link to content provided by other sites. Please contact the content providers to delete copyright contents if any and email us, we'll remove relevant links or contents immediately.