A Religious Orgy in Tennessee by H.L. Mencken
Author:H.L. Mencken [Mencken, H.L.] , Date: September 27, 2017 ,Views: 834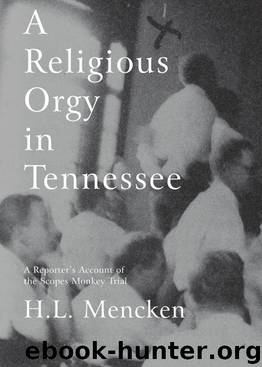 Author:H.L. Mencken [Mencken, H.L.]
Language: eng
Format: epub
ISBN: 978-1-61219-031-0
Publisher: Melville House
Published: 2010-12-29T05:00:00+00:00



* Popular comedy duo, Lew Fields and Joe Weber.
XIII
Tennessee in the Frying Pan
From The Baltimore Evening Sun, July 20, 1925
I
That the rising town of Dayton, when it put the infidel Scopes on trial, bit off far more than it has been able to chew—this melancholy fact must now be evident to everyone. The village Aristides Sophocles Goldsboroughs believed that the trial would bring in a lot of money, and produce a vast mass of free and profitable advertising. They were wrong on both counts, as boomers usually are. Very little money was actually spent by the visitors: the adjacent yokels brought their own lunches and went home to sleep, and the city men from afar rushed down to Chattanooga whenever there was a lull. As for the advertising that went out over the leased wires, I greatly fear that it has quite ruined the town. When people recall it hereafter they will think of it as they think of Herrin, Ill., and Homestead, Pa. It will be a joke town at best, and infamous at worst.*
The natives reacted to this advertising very badly. The preliminary publicity, I believe, had somehow disarmed and deceived them. It was mainly amiable spoofing; they took it philosophically, assured by the local Aristideses that it was good for trade. But when the main guard of Eastern and Northern journalists swarmed down, and their dispatches began to show the country and the world exactly how the obscene buffoonery appeared to realistic city men, then the yokels began to sweat coldly, and in a few days they were full of terror and indignation. Some of the bolder spirits, indeed, talked gaudily of direct action against the authors of the "libels." But the history of the Ku Klux and the American Legion offers overwhelmingly evidence that 100 per cent Americans never fight when the enemy is in strength, and able to make a defense, so the visitors suffered nothing worse than black, black looks. When the last of them departs Daytonians will disinfect the town with sulphur candles, and the local pastors will exorcise the devils that they left behind them.
Download


Copyright Disclaimer:
This site does not store any files on its server. We only index and link to content provided by other sites. Please contact the content providers to delete copyright contents if any and email us, we'll remove relevant links or contents immediately.