The Murder of Marilyn Monroe by Jay Margolis
Author:Jay Margolis , Date: June 23, 2014 ,Views: 1170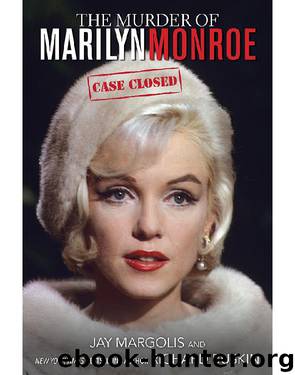 Author:Jay Margolis
Language: eng
Format: epub
Publisher: Skyhorse Publishing
Published: 2013-12-31T16:00:00+00:00



DOLORES NAAR CLAIMS DR. GREENSON GAVE MARILYN SEDATIVES
Talking with Jay Margolis, Dolores Naar claimed that, en route to the Lawfords' dinner party, she and Joe were supposed to give Marilyn a ride there. However, there was a change of plans before they set out: "Peter called our house and said, 'Don't pick up Marilyn. She's not coming.'"
The Naars told biographer James Spada that they received the call from Lawford at about 7:30 p.m. "I read in one of the books that Bobby was upstairs," said Dolores. "They were hiding him. I don't believe any of it. There was no way Bobby Kennedy was there."
According to Joe in his interviews with both Spoto and Margolis, Lawford called again at 11:30 p.m., this time to ask him to check on Marilyn. In Spoto's interview with him, Joe quoted Lawford as saying the following: "I just talked to Marilyn and I'm scared. I don't like the way she sounds. I think she's taken some pills. Will you go check up on her?"
As we know, Joe agreed before a second call, a couple of minutes later, informed him there was no need to go. Dolores explained to James Spada that to her husband Joe over the phone, Lawford "said that he'd spoken to Marilyn's doctor and [Dr. Greenson] had said that he had given her sedatives because she had been disturbed earlier and she was probably asleep, so don't bother going. [Lawford] said, 'You'll just wake her up.'"
MARGOLIS: How were you apprised of the conversation between Joe and Peter? Did Joe tell you that Marilyn had received sedatives from her doctor?
DOLORES NAAR: Well, I was there.
MARGOLIS: So, you were listening in on the phone with Joe while Peter was calling?
DOLORES NAAR: I was in the room.
In a subsequent interview, Margolis returned to the same subject.
MARGOLIS: As far as that last call from Peter goes, telling you and Joe not to go around 11:30 p.m., Joe said to me in an interview that Peter told him Dr. Greenson had said, "She does this all the time. Don't go."
DOLORES NAAR: That's right. He said Dr. Greenson had given her something to sleep and she's fine. That's what Peter told Joe. "So you don't need to go."
Perhaps Peter Lawford was alluding to Ralph Greenson's undiluted Nembutal injection, which would not only put Marilyn to sleep but ensure that she'd never wake up. Even though she believed Marilyn died an accidental death, Dolores Naar still considered Lawford's actions to be more than a little suspicious. She told James Spada, "Peter probably called Jack or Bobby and was told to take care of things—do whatever he had to do. And do it yourself—don't involve anybody else under any circumstances."
Spada made some chilling points: "These were an odd pair of telephone calls in an evening replete with oddities. Why did Peter, who had been worried about Marilyn since 7:30, wait until the Naars had returned home to indicate any concern to them over Marilyn? And why did he first ask
Download


Copyright Disclaimer:
This site does not store any files on its server. We only index and link to content provided by other sites. Please contact the content providers to delete copyright contents if any and email us, we'll remove relevant links or contents immediately.