The Lean Strategy by Michael Balle
Author:Michael Balle , Date: April 14, 2020 ,Views: 383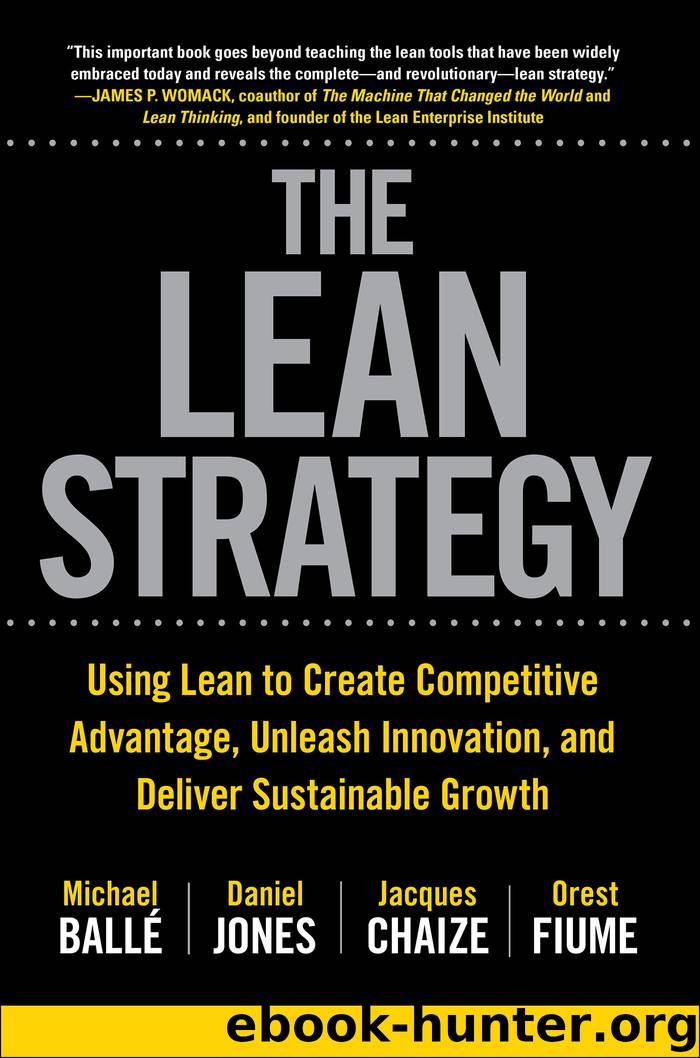 Author:Michael Balle
Language: eng
Format: epub
Publisher: McGraw-Hill Education
Published: 2017-04-15T00:00:00+00:00



Figure 5.1 Complicated Standards Modified to Fit Within a Single Sheet
However, although the need to focus on people had been very clear since the early steps with the pull system, the CEO knew that Alliance remained an engineering-driven company, and as the changes rolled out, he recognized the increasing tension within the teams and between production employees and engineers. Absenteeism, which was historically low, doubled, and tempers were running high.
Taking a step back and discussing the problem with his HR manager (she changed her job title to "people manager") and the rest of his management team, Bihr recognized the tension the pull system and the andon were putting on the shop floor by creating a sense of urgency and importance to every single internal part delivery: right quality, right time. They also saw that in creating the stable team structure to support the move to pull flow, they had picked the best technical people for team leaders. One of their best operators suddenly announced she was giving up the team leader role, which was a real wake-up call.
"We shape our tools," Bihr is fond of saying, "and then our tools shape us." In facing his problem, he saw he needed to reframe the team leader job from "the most competent person to solve the technical problems to enable the pull system to run smoothly" to "natural leaders who could support the team in both day-to-day work and improvement." In a moment of profound insight, the CEO realized the progress driven by the pull system had been so huge that he didn't need it to run perfectly as a machine every day—it wouldn't make such a big operational difference at this stage. What he did need to do was to stop and uncover previously hidden problems that could now be explored in depth in order to reduce the production of defects still caught at final inspection and the tooling difficulties in production change. Stops and hiccups in the smooth running of the pull system were not to be shunned or avoided but embraced and explored. With hindsight this sounds pretty obvious, but for such a gifted and brilliant technologist, shifting from a mechanical view of the pull system to a more organic one that considered people in their people dimension was a true mental revolution.
Following on his insight, Bihr now understood that all the dojo training of operators made sense within relationships and that he needed to progressively find team leaders who were OK technically but, more importantly, who had an easy relationship with their coworkers and earned their respect for their human qualities: it had to be a compromise between technical and, well, leadership skills.
In the end, Bihr now has had one year without a work accident and 210 days without returns from his medical clients (who are highly demanding). On-time delivery is up to 94.2 percent versus 89 percent last year. New customers are now 15 percent of the customer base. Internal defects have been cut by half. Sales are up 10 percent with 10 percent fewer people overall.
Download


Copyright Disclaimer:
This site does not store any files on its server. We only index and link to content provided by other sites. Please contact the content providers to delete copyright contents if any and email us, we'll remove relevant links or contents immediately.