The Detective Amy Sadler Series Box Set: Books 1-4 by Michelle Arnold
Author:Michelle Arnold [Arnold, Michelle] , Date: August 6, 2020 ,Views: 275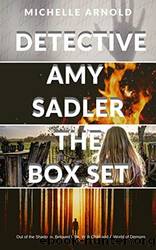 Author:Michelle Arnold [Arnold, Michelle]
Language: eng
Format: epub
Published: 2019-10-19T22:00:00+00:00



Chapter 10
The body was under a big oak tree, in the darkness at the edge of the church grounds. He was dressed up in a nice suit that seemed to clash with his fluffy grey Santa Claus beard, and he had a gunshot wound in his chest, another in his shoulder, and yet another in his crotch. The crime scene team was setting up floodlights, slowly turning the scene bright as day.
"That crotch shot definitely says something," Amy remarked.
"There's not as much blood around that one," Lira said, kneeling beside the body. "I think his heart had already stopped when they shot him there."
A smile tugged at the corners of Amy's mouth as she looked at her wife. Kneeling like that was going to get harder as her belly got bigger. She thought again of how Lira had looked with that prosthetic stomach on and how emotional it had made her. Having a baby was turning out to be more of an emotional rollercoaster than Amy had anticipated.
"So it was an afterthought," Luis said. "The perp killed him, then shot him right in the junk. Looks pretty personal to me."
"Are you thinking what I'm thinking?" Amy asked.
He looked at her. "You think the killer's a woman?"
"I think it's a possibility. If it's a man, there's probably still a woman involved."
"Maybe he had an affair with a married woman and her husband came after him."
"Always worth considering," agreed Amy. "I'm not sure anything's ever that simple with these people, though." She looked at the church, which was completely lit up inside even thought it was a Saturday night. "What's going on in there? Must be some sort of shindig. The lot's full of cars. Lights are all on."
"Let's go check it out," said Luis.
They walked together up the front steps of the church. Just inside they found a very young officer standing at the entrance to the sanctuary, talking to a man in a suit. The sanctuary, cleared of pews, was full of round tables covered in elegant white cloths, with bouquets of white roses in the middle of each. To the side, some kind of photo booth was set up, similar to what you'd see at prom, with big white balloons forming an arch. On the altar was a huge wooden cross draped with a white cloth, the pulpit in front surrounded by more flower arrangements. She would have thought it was a wedding, but the people sitting around the tables were all middle-aged men in nice suits and preteen girls wearing fancy white dresses.
"What in the actual fuck is going on in here?" Amy blurted out.
"Watch your language, this is a church," the officer snapped.
"Oh really, are you running the church?" Amy asked him.
"No, but I'm trying to respect the people here. They're already frightened enough. Their leader was just murdered." He turned to Luis. "I'm Officer Rick Davis, by the way."
"Detective Luis Martinez, and my partner, Amy Sadler. Can you give us the rundown?"
"Of course. The church is having a purity ball.
Download


Copyright Disclaimer:
This site does not store any files on its server. We only index and link to content provided by other sites. Please contact the content providers to delete copyright contents if any and email us, we'll remove relevant links or contents immediately.