The Bride Wore Spurs by Janet Dean
Author:Janet Dean , Date: October 29, 2022 ,Views: 49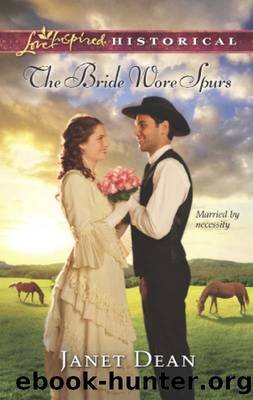 Author:Janet Dean
Language: eng
Format: epub
Publisher: Harlequin
Published: 2013-10-14T16:00:00+00:00



Chapter Thirteen
Hannah sat at an enormous desk in the president's office of Bliss State Bank, a desk that confirmed his position but failed to hide Mr. Thomas's wide girth, and signed her name.
Across from her, Mr. Thomas shoved his spectacles up his nose and craned his neck toward the form. "Ah, I need to remind you that you're Hannah Parrish Walker."
Cheeks aflame, Hannah stared at her signature, barely able to believe she'd signed her maiden name. "Oh, I'm sorry."
Below his neatly trimmed mustache, Mr. Thomas's mouth twitched in an effort to contain a smile. "No problem. Plenty of room to add your married name."
With a nod, Hannah lowered the nib to the paper, then paused. The Walker name affirmed her wedded status. But, what would a real marriage be like? A marriage in more than name only? She bit back the sigh trying to shove up her throat, tightened her grip on the pen and scrawled Walker.
The last of her errands completed, Hannah emerged into the sunshine and turned toward Leah's. She'd end the hectic afternoon with a visit to her friend.
As she passed the Western Union office, Mr. Katter sped out the door, hatless and huffing for breath. "Miss Parr—Ah, Mrs. Walker, mighty glad I saw you. We just received a telegram for Jake Hardy. If you'd take it to him, that would save our delivery boy a trip out."
"Happy to." Hannah tucked the envelope in her purse.
Mr. Katter's face hadn't revealed anything about the contents, but a telegram rarely brought good news. The visit to Leah would have to wait.
On the drive to the Lazy P, Hannah soaked up the peaceful pastureland, the cattle grazing in the fields. As she neared the stable, she slowed Lightning, then stopped the buggy. A few yards away, Matt and Jake leaned against the corral fence. Matt waved a hand, then ambled over, a welcoming grin on his face.
"Hello," he said, gazing up at her.
The warmth in his dark eyes slid through her, left her unsteady on her feet. With strong hands, he clasped her waist, then lifted her down. Her heart thudded in her chest. This marriage might not be real, but the man most certainly was.
Odd as she'd felt signing Hannah Parrish Walker, for the briefest moment in town, she'd wished for a real marriage. Now gazing into Matt's eyes, hunger for that closeness rose inside her.
"Everything go okay in town?" Matt asked.
Had her expression revealed the turmoil inside her?
"I opened an account in my name at the bank and deposited the profit from the cattle sale. Paid the bills at Bailey's and the feed store and ordered supplies. Our attorney verified Papa's last will and testament. Shouldn't take long for probate to confirm the will is valid."
"Knew you could handle things."
"Thank you." Matt's confidence in her soothed like butter on a burn. "Some people underestimate me. Papa's lawyer and the bank president both expressed surprise I'd come without you."
"You're smart, capable. You don't need me holding your hand.
Download


Copyright Disclaimer:
This site does not store any files on its server. We only index and link to content provided by other sites. Please contact the content providers to delete copyright contents if any and email us, we'll remove relevant links or contents immediately.