Sister Outsider by Audre Lorde
Author:Audre Lorde , Date: August 6, 2020 ,Views: 818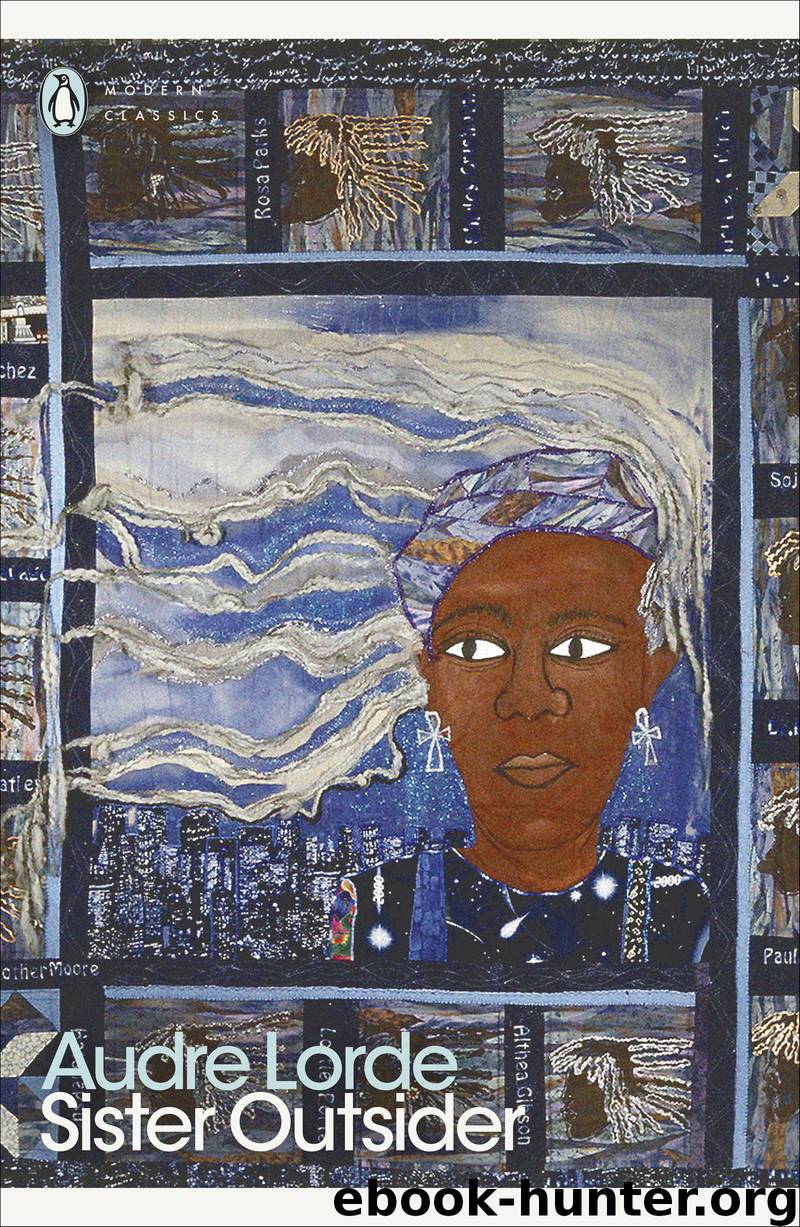 Author:Audre Lorde
Language: eng
Format: epub
ISBN: 9780241410493
Publisher: Penguin Books Ltd
Published: 2019-07-03T16:00:00+00:00



The Master's Tools Will Never Dismantle the Master's Housefn1
I agreed to take part in a New York University Institute for the Humanities conference a year ago, with the understanding that I would be commenting upon papers dealing with the role of difference within the lives of american women: difference of race, sexuality, class, and age. The absence of these considerations weakens any feminist discussion of the personal and the political.
It is a particular academic arrogance to assume any discussion of feminist theory without examining our many differences, and without a significant input from poor women, Black and Third World women, and lesbians. And yet, I stand here as a Black lesbian feminist, having been invited to comment within the only panel at this conference where the input of Black feminists and lesbians is represented. What this says about the vision of this conference is sad, in a country where racism, sexism, and homophobia are inseparable. To read this program is to assume that lesbian and Black women have nothing to say about existentialism, the erotic, women's culture and silence, developing feminist theory, or heterosexuality and power. And what does it mean in personal and political terms when even the two Black women who did present here were literally found at the last hour? What does it mean when the tools of a racist patriarchy are used to examine the fruits of that same patriarchy? It means that only the most narrow perimeters of change are possible and allowable.
The absence of any consideration of lesbian consciousness or the consciousness of Third World women leaves a serious gap within this conference and within the papers presented here. For example, in a paper on material relationships between women, I was conscious of an either/or model of nurturing which totally dismissed my knowledge as a Black lesbian. In this paper there was no examination of mutuality between women, no systems of shared support, no interdependence as exists between lesbians and women-identified women. Yet it is only in the patriarchal model of nurturance that women 'who attempt to emancipate themselves pay perhaps too high a price for the results,' as this paper states.
For women, the need and desire to nurture each other is not pathological but redemptive, and it is within that knowledge that our real power is rediscovered. It is this real connection which is so feared by a patriarchal world. Only within a patriarchal structure is maternity the only social power open to women.
Interdependency between women is the way to a freedom which allows the I to be, not in order to be used, but in order to be creative. This is a difference between the passive be and the active being.
Advocating the mere tolerance of difference between women is the grossest reformism. It is a total denial of the creative function of difference in our lives. Difference must be not merely tolerated, but seen as a fund of necessary polarities between which our creativity can spark like a dialectic. Only then does the necessity for interdependency become unthreatening.
Download


Copyright Disclaimer:
This site does not store any files on its server. We only index and link to content provided by other sites. Please contact the content providers to delete copyright contents if any and email us, we'll remove relevant links or contents immediately.