Rescued by the Highlander by Rebecca Preston
Author:Rebecca Preston , Date: July 9, 2020 ,Views: 113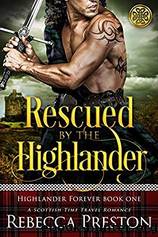 Author:Rebecca Preston
Language: eng
Format: mobi, epub
Tags: Time travel
Published: 2019-10-22T04:00:00+00:00



CHAPTER 31
They kept walking, Anna bringing up the rear and making sure that the servants didn't fall too far behind or get strung out along the path through the forest. They were breaking in and out of trees as they walked, the men keeping a sharp eye on the forest, and Anna noticed that they were still within a few hundred yards of the shore of the lake. They were heading the opposite direction, though, from the direction she'd come on her first night — that meant Maggie's cottage was on the other side of the lake from where they were. She felt a brief pang of affection for the woman. She had asked a few servants whether it was possible to get a message to Maggie — a short note expressing her gratitude for the wraps that healed her cold — but none of them had been especially willing to go and visit the little old woman. Anna had been set on going herself before she'd been distracted by this full-moon escapade to hunt down a strange, wild creature — probably a wolf, she reminded herself, probably just an ordinary, garden-variety wolf. Not that she had much experience with wolves. She'd seen a pack in a zoo once, that was about it.
But getting a glimpse of Maggie — even getting a glimpse of her little cottage — would have made Anna feel better about this trek they were on. It felt strange, to be out in the woods, hunting a supernatural creature. She supposed this was what the Sept had been built for, but still, the tactical blunder of leaving the supply line so far behind the main force made her feel uneasy. If they'd made that mistake, what was to say they wouldn't make more mistakes further down the line — perhaps when there was more at stake than just Anna's sense of security? At least she was here, she counseled herself. She could definitely make a difference, if it came to that. She was rested, she was sharp, she was alert — and if she had to, she'd fight off a wolf.
But where were they going? They didn't seem to be searching through the woods — they were staying rather close to the shore of the Loch, honestly. Hadn't the reports said that the creature was in the forests around the castle? That being said, she hadn't heard the full report. Perhaps they were headed for a specific farm where the monster had been sighted. That made sense, she supposed — but she still moved to catch up with Emily, who was walking toward the back of the group.
"Where are we going, exactly, do you know?" She hated feeling out of the loop — but she supposed it made sense for her to ask questions, given that she was nominally just a carrier of supplies on this little jaunt. "I thought we were meant to be searching the forests."
"We're headed for the village," Emily explained. "Donal wants to check in with the village leader if he's there, see if there have been any sightings today.
Download


Copyright Disclaimer:
This site does not store any files on its server. We only index and link to content provided by other sites. Please contact the content providers to delete copyright contents if any and email us, we'll remove relevant links or contents immediately.