One Step Ahead by David Sally
Author:David Sally , Date: July 4, 2020 ,Views: 188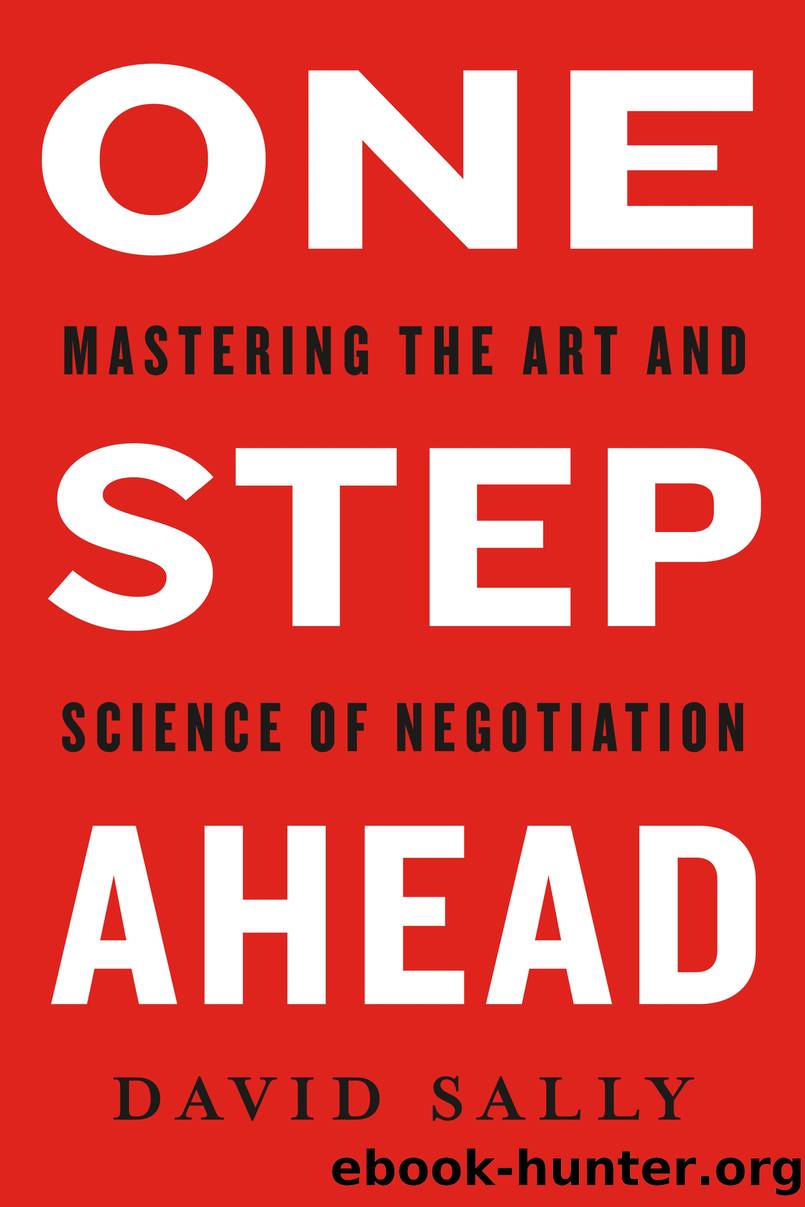 Author:David Sally
Language: eng
Format: epub
Publisher: St. Martin's Publishing Group



* * *
I played Little League baseball with a kid named Norman. He was a decent player with a good bat and an arm suitable to most positions in the field except for pitcher. And yet, given the dearth of talent on the team, Norman often had to take the mound. When he did, the inning would consist of bases on balls, wild pitches, and blasts to the deepest parts of the outfield. Norman had a round face and preadolescent chubby cheeks: he was a miniaturized version of Ken Kaiser's self-description, "a barrel with two arms stuck on—backwards." As the runners and runs piled up, Norman would get angry and his face would become red and redder. When at last a hitter swung through a pitch for a third strike and was the first to walk back to the dugout, bat in hand, Norman, standing on the mound as though it were a pedestal in Cooperstown, would proclaim triumphantly, "You are gone!"
Major League Baseball told Kaiser loudly and unfairly in the autumn of 1999 that he was gone. Actually, he and his fellow umpires had unwisely ejected themselves from the game, making this a cautionary tale of self-deception for every negotiator.
On the heels of two decades of successful strikes and a huge increase in salary and benefits, the umpires' union had gained a great deal of power by the summer of 1999, the final year of a collective bargaining agreement in which they had renounced their right to strike. Earlier in the season, rumors popped up that the MLB commissioner planned to fire twenty of the sixty-eight full-time umpires when the current contract expired. Kaiser—loud, arrogant, confrontational, and unafraid of the spotlight—was a likely target for termination.
Seeking to be proactive, the head of the union, a tough guy named Richie Phillips, devised a strategy to compensate for the inability to strike: the umpires would all submit letters of resignation effective September 2, when pennant races were reaching maximum intensity. Most of the umps met in Philadelphia on July 14, during the All-Star Break, and Phillips presented them with pre-drafted letters to be signed right then and there. That same day, Phillips mailed the letters, publicly announced the resignations and the dissolution of the union, and indulged in a bit of premature grave dancing with the announcement that "the league is in chaos." He also stated that his members "want to continue working as umpires, but they want to feel good about themselves and would rather not continue as umpires if they have to continue under present circumstances."
When the letters arrived at league headquarters, MLB was happy to oblige. The commissioner's office accepted all the resignations. Phillips and the union had badly miscalculated MLB's BATNA: not only had they handed all leverage over to the commissioner, but they had given the league six weeks' additional notice to refine its contingency plans.
Within days, after talking to their spouses and lawyers, many of the umpires began to regret their haste in signing the letters, and sixteen contacted MLB to withdraw their resignations.
Download


Copyright Disclaimer:
This site does not store any files on its server. We only index and link to content provided by other sites. Please contact the content providers to delete copyright contents if any and email us, we'll remove relevant links or contents immediately.