Make Noise by Eric Nuzum
Author:Eric Nuzum , Date: March 9, 2020 ,Views: 226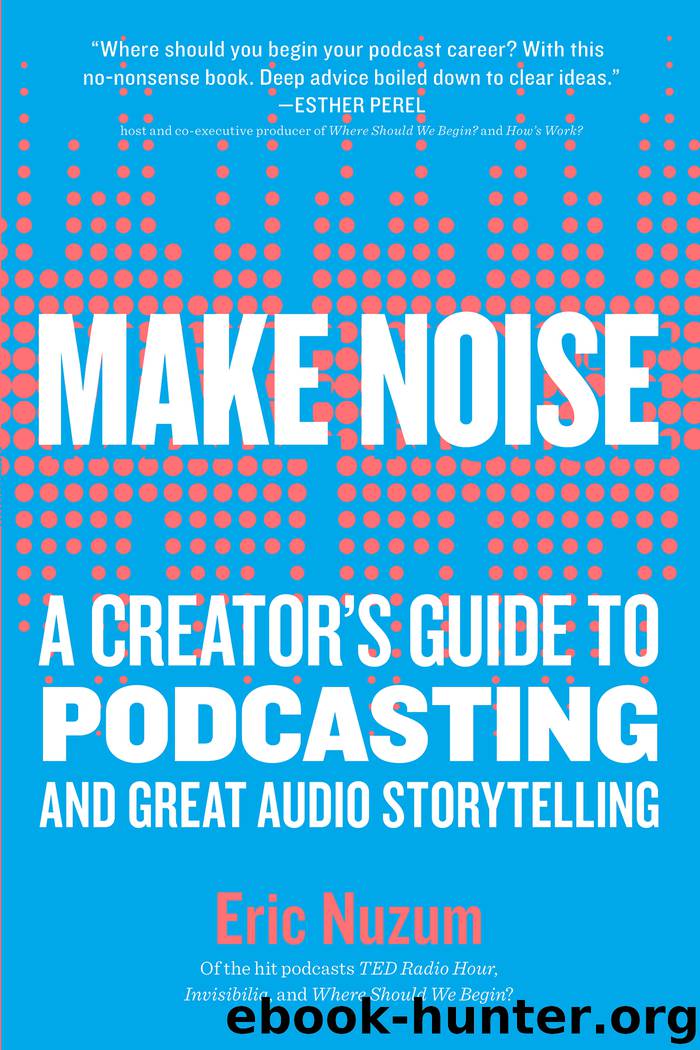 Author:Eric Nuzum
Language: eng
Format: epub
Publisher: Workman Publishing
Published: 2019-11-08T22:31:16+00:00



Use caution with "important" stories.
I have difficult conversations with a number of journalists and news producers who have spent their careers chasing news stories, but are now trying to explore podcasting. While a lot of great podcasting employs journalism ethics, best practices, and principles, not all journalism makes for good podcasting. There are a few reasons for this.
In journalism, there are two basic kinds of stories: stories that tell the news and stories that forward our understanding of events and the people involved in them. Those stories that "tell the news" are basically covering the "who, what, and when" of a newsworthy event. Those stories that "forward our understanding" take a very broad look at the "why and how" of an event.
Headline news is a ubiquitous commodity. When an aging celebrity keels over from a heart attack, there are literally hundreds of sources who tell you, often as breathlessly quickly as possible, that the death has occurred. That's why a lot of journalists strive to break new stories or new angles on stories, if for no other reason than to separate themselves from the pack.
Journalists love the "forward our understanding" stories for the same reason: The enterprising nature of this type of journalism allows the journalist (and the organization they create for) to distinguish themselves. This is all well and good, but I'd argue that a lot of what makes good journalism good tends to focus on the relevance and importance of a story, not its ability to command an audience.
Let me provide an example. Recently a friend of an acquaintance called me for advice on starting a podcast. When I asked what the podcast was about, she told me they had done some investigative work on a local doctor who had been accused of molesting young female patients—very young female patients.
"So tell me," I asked. "Why would someone want to listen to that?"
"Because it is an important story," was the reply. "And we really dive in deep on who this guy was and what makes him tick."
I said that I didn't doubt its importance and praised her for her journalism and efforts to approach a difficult and highly emotionally charged subject. But none of that was a reason to listen to the story. And it wasn't a good reason to look at podcasting as the right way to distribute it.
I told her that it would be hard to imagine someone seeking out a podcast that was basically a biography of a serial rapist. I wasn't suggesting that their portrait of this guy and his crimes wouldn't be sympathetic, but that is really rough material.
"But no one else has this," she protested. "We have interviews with a lot of his victims, those who knew him, and many others. We basically own this story."
I told her that those were good reasons to cover the news story as a news story in their news programs on other platforms. But to create a stand-alone podcast, they were shitty reasons.
She just couldn't understand why I would say this.
Download


Copyright Disclaimer:
This site does not store any files on its server. We only index and link to content provided by other sites. Please contact the content providers to delete copyright contents if any and email us, we'll remove relevant links or contents immediately.