It Takes a School by Jonathan Starr
Author:Jonathan Starr , Date: April 27, 2017 ,Views: 342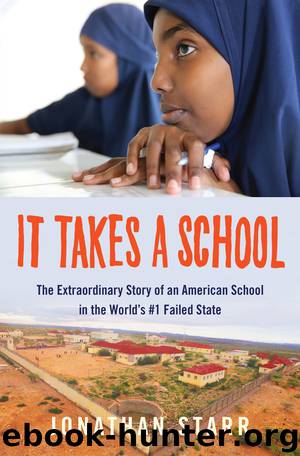 Author:Jonathan Starr
Language: eng
Format: epub
Publisher: Henry Holt and Co.



25
MONEY DISGUISED AS RELIGION
Unfortunately, not all our local problems are due to ignorance. Abaarso School had its enemies before we even opened our doors. Private for-profit schooling is a big business in Somaliland, and while some, like Young Muslim Academy, are supportive of our effort, others consider us a threat. Rumors are rampant, and many of our parents are under attack for sending their girls to be with the "infidels." Some say we are missionaries and that we are out to do harm. When our students go back home on weekends or school breaks, they hear heckling in town from people who know nothing about Abaarso. Some even get in physical fights with those spreading these lies.
The heads of their former schools are the worst offenders.
"I hear they're trying to change your religion."
"No, that hasn't happened at all."
"How do you know? They might be doing it in a secret way."
Anyone who has met a missionary knows they are neither coy nor fans of playing the long game. Anyone who knows me knows I have no interest in religion. These accusers don't care, as they are the ones with the secret agenda. Such attacks are not unprecedented. SOS is a European organization, and when they first reopened the Sheikh School, they faced many of the same rumors. Those proved baseless, and by the time I'd arrived, SOS was considered the top school in Somaliland, but that doesn't stop the attackers from trying again. In business terms, for-profit competitor schools exploit religious and cultural fears to create a barrier to entry.
One of our students' mother told me the following story. She had gone to discuss a problem with the headmistress of the school where her younger children are enrolled. But instead of the school addressing her concern, the headmistress attacked her. "Your girls at Abaarso are having their religion changed," she scolded. She had never set foot on our campus, but five of her former students were now at Abaarso, which meant lost revenue.
The maligning of Abaarso is hard for the students and parents alike. It also creates additional security concerns. After all, it has only been six years since the brutal assassination of the British couple who came to Somaliland to reopen the Sheikh School under SOS's auspices. Attacks based on religion, no matter how unfounded, put our teachers in danger. No walls, especially ones with removable glass fragments, could keep one safe from a society that turned against you. Our guards are local people, and with enough bad rumors, even they could quickly become enemies.
Download


Copyright Disclaimer:
This site does not store any files on its server. We only index and link to content provided by other sites. Please contact the content providers to delete copyright contents if any and email us, we'll remove relevant links or contents immediately.