Hindoo Holiday by J. R. Ackerley
Author:J. R. Ackerley , Date: August 5, 2020 ,Views: 119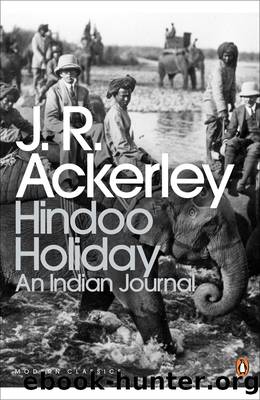 Author:J. R. Ackerley
Language: eng
Format: epub
ISBN: 9780141900032
Publisher: Penguin Books Ltd
Published: 2009-11-04T16:00:00+00:00



February 13th
ALMOST every morning now, and sometimes in the late afternoon, Narayan, the young Guest House clerk, comes in to see me.
'I may come in?' his soft voice inquires from the threshold, and I smile a welcome and indicate the chair opposite. He is a handsome boy, with very gentle eyes, beneath a broad, intelligent forehead. The lower part of his face is less good; his lips are too thick, his black silky moustache rather untidy, and his teeth badly discoloured by betel. But he is spotlessly clean and wears his dhoti, which is always of the finest muslin, more gracefully than any other Hindoo I have seen, so that it falls almost to the level of his insteps. On his bare feet he wears old-fashioned buckle shoes, which are both becoming and sensible, since they have so frequently to be shuffled off; and on his head a round black hat, like Babaji Rao's, into which he crams his long oily tress of blue-black hair. His carriage is calm and dignified, conscious of the superiority of his caste; his demeanour reserved, thoughtful, and attentive.
I have found him very useful as an interpreter in getting my small wants attended to, or in suppressing the zeal of Habib, the smaller of the two Mohammedan boys, who seems to have elected himself my personal servant; but although Narayan must be aware of my need of him, he does not, like Abdul, take advantage of it, but remains always courteous and deferential.
I do not know why he comes in to me so often; if it is to benefit his English or his mind—Europeans being 'so wisdom'—then his courage must fail him, for he seldom speaks a word, but just sits here, very shy and quiet, with his hands idle in his lap and his gaze bent upon the floor.
I have tried to draw him into conversation, but I dare say he is self-conscious about his English and feels it to be inadequate; for although he has no difficulty in understanding and answering my questions, he seems unable to frame one of his own. Yet his knowledge of the language, though not extensive, is serviceable enough; and he speaks it rather prettily, in a light, musical, rather caressing manner. Now I scarcely interrupt my studies for him; he salaams, and we touch hands; I offer him a chair and a cigarette, which he would not take without my permission, and then go on with my work. Every now and then our glances meet and he responds to my smile shyly and then drops his gaze. And here he sits, smoking, or chewing betel, or doing nothing, until some one calls him or he thinks he ought to go.
'Now I will go,' he says gently, making it half a question and half a statement; I nod smiling, and with a salaam he departs.
I have seen many forms of salutation here, the commonest being to move the tips of the fingers of one or both hands to and from the forehead.
Download


Copyright Disclaimer:
This site does not store any files on its server. We only index and link to content provided by other sites. Please contact the content providers to delete copyright contents if any and email us, we'll remove relevant links or contents immediately.