Hearts Across Time by Sherry Ewing
Author:Sherry Ewing , Date: July 9, 2020 ,Views: 112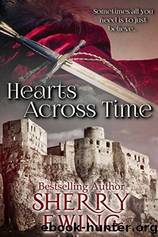 Author:Sherry Ewing
Language: eng
Format: mobi
Tags: Time travel
Published: 2016-04-16T18:00:00+00:00



Chapter 35
Riorden watched the horrified look on his wife's visage and felt a force beyond his ken attempting to rip Katherine from his life. He continued to hold tightly to her hand, even whilst he felt her slipping from his grasp. Merde! No one or thing would wrench this woman from his side. She belonged to him, and he would be damned if Time would take her. He tugged harder, hoping to bring her back to him, once more.
He watched her mouth moving and was frightened for the first time in his life when her words whispered inside his head, as if she was a ghost, yet again. Bloody Hell!
"I love you, Riorden. Throughout all time will I love you…"
"Nay, Katherine. Do not leave me," he bellowed and reached out with his other hand to take a firmer hold upon his wife. "God, I pray, do not take her from me. I beg of You!"
Struggling to maintain his grip, he watched in alarmed fascination as Tiernan and Danior disappeared afore his very eyes while Juliana and Emily stared in shock at their now empty hands. They were at least still with his Katherine, and yet they seemed not of this world whilst they earnestly attempted to reach their friend.
Suddenly, the two women frantically dove forward and gave Katherine a mighty push, causing his wife to momentarily teeter on the edge, between the present and the future. And then… miracle of all miracles, Time released her, as if against its will, and Katherine violently slammed forward into his arms. He crushed her to him as they stumbled onto the floor from the sheer force of power that had held her captive.
"Thank you, God," Riorden whispered whilst he held on to his wife as if he would never let her go.
Katherine swiftly regained her senses and turned, staring for the last time at her friends. The two women became more and more transparent afore her eyes until they were but shadows. Together, they blew her a kiss in a final farewell, took each other by the hand, and vanished into thin air.
Just as quickly, the time gate rapidly diminished with fading, glowing lights. Abruptly, they were cast back into the dimness of the castle and life in the twelfth century. The torches began to sputter, giving off smoke, and all appeared as it should, as if nothing out of the ordinary had just occurred.
There was not much in this life that could cause Riorden to lose his composure, and yet holding his wife as she turned and cried on his shoulder was almost more than he could bear. He swore he was shaking almost as much as Katherine whilst she began to mutter incoherent sentences of what he assumed was gratitude to a higher being. They had much to be thankful for, and he could spend the rest of his days humbly praying and still 'twould not be long enough to show his undying love for this woman God had given back to him.
Download


Copyright Disclaimer:
This site does not store any files on its server. We only index and link to content provided by other sites. Please contact the content providers to delete copyright contents if any and email us, we'll remove relevant links or contents immediately.