Founder, Farmer, Tinker, Thief by Chris Cooper
Author:Chris Cooper , Date: June 15, 2020 ,Views: 328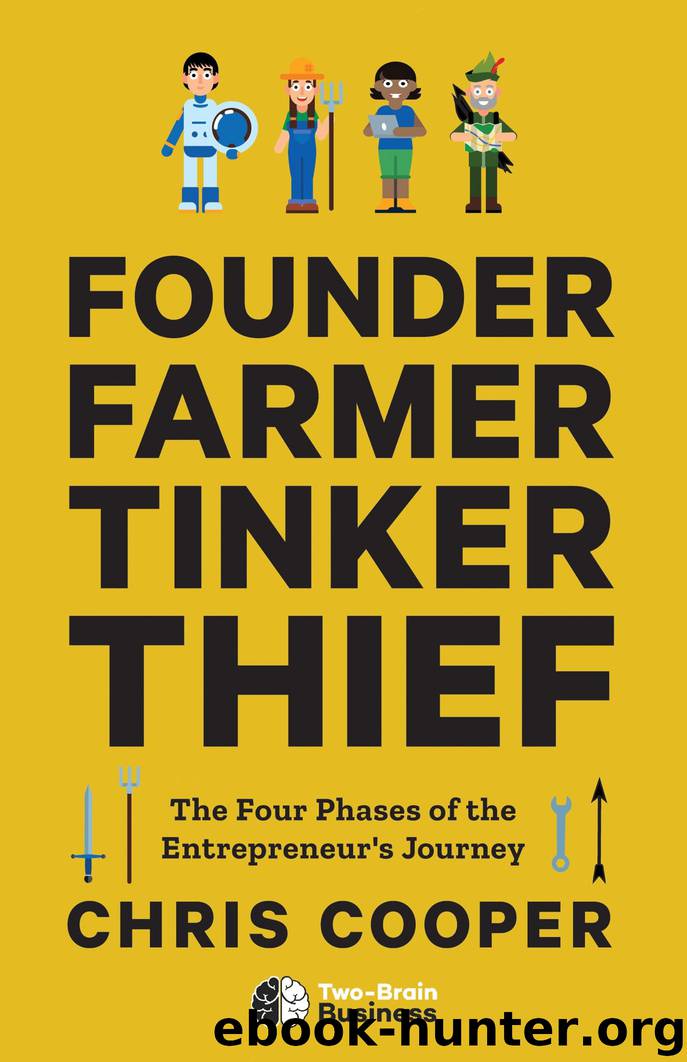 Author:Chris Cooper
Language: eng
Format: epub
Publisher: BookBaby
Published: 2019-04-08T03:18:27+00:00



The science of motivation is the science of success. That's why I study motivation more than I consider anything else. After more than two decades as a coach, I know the "homework" I assign is secondary to my client's desire to perform it. Here's what we know about motivation:
Success has to happen before you become motivated.
Success has to KEEP happening.
We don't always recognize progress when it happens. We're pretty hard on ourselves.
Internal reinforcement is the most important. Many businesses sell incremental improvements: a client loses one pound per week, or their portfolio gains ten dollars per month. Maybe the improvements in their marriage are hard to measure. Whatever you're selling, it's essential to have your clients recount the bright spots of your service. This will reinforce your value and give them a source of gratitude they probably don't have anywhere else in their lives.
Asking a client, "What went well for you this week?" creates an opportunity for them to reflect on their personal bright spots. Like us, most of our clients just go from fire to fire without hearing positive feedback. Cultivating gratitude and a sense of balance will help them improve their outlook on life. For example, in the Two-Brain Facebook group, we practice Bright Spots Fridays. Every week, nearly every entrepreneur recounts what went right for him or her. It helps them recognize their incremental gains and motivates them to keep working hard on their business. This is internal reinforcement.
External reinforcement comes from the business. A hairdresser who spends a few minutes scrolling through her clients' selfie posts and commenting, "You look great!" is a good move. But a hairdresser who finishes an appointment by saying, "You look amazing! Let's take a selfie in front of our logo!" is making a great move. She's praising the client, and sharing her success at the same moment the client feels most willing.
In a gym, taking a client's picture in front of a whiteboard that reads "I just did my first pull-up!" is great for everyone: the client, the coach, and the business. Pictures tell powerful stories. Making people feel famous is excellent external reinforcement. Where else can they go to feel that kind of recognition? Making people feel a way they can't anywhere else is the key to great retention (and great marketing).
These "personal best" pictures work in all industries. Dave Ramsey, the author of several personal budgeting books like The Total Money Makeover, uses this technique on his Instagram feed often. Beaming couples and families send him pictures of themselves celebrating "First financial baby steps" or "$250,000 in debt gone!" Couldn't it work for an attorney, a car salesman, or a dentist? Of course it can. Fewer things are more attractive to your clients than praise. Plant bright spots along their trail like breadcrumbs.
Download


Copyright Disclaimer:
This site does not store any files on its server. We only index and link to content provided by other sites. Please contact the content providers to delete copyright contents if any and email us, we'll remove relevant links or contents immediately.