Conquer Foot Pain by Julie Renae Smith
Author:Julie Renae Smith [Julie Renae Smith] , Date: March 19, 2023 ,Views: 54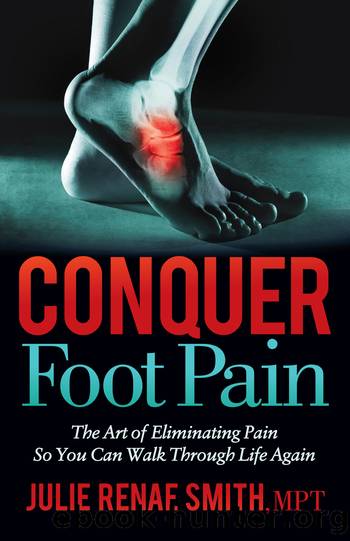 Author:Julie Renae Smith [Julie Renae Smith]
Language: eng
Format: epub
Publisher: Morgan James Publishing
Published: 2020-03-15T00:00:00+00:00



CHANGING THE PAIN SIGNAL AND INTERPRETATIONS
Changing the signal can happen several ways. Pain-gate being one way. Pain-gate occurs by interrupting the pain signal with a touch signal. If you visualize the pain pathway as a side street and the touch pathway as a highway; if you take the highway you get there faster. Therefore, if the pain is taking the side streets, and the touch is taking the highway, touch can get to the spinal cord faster and essentially "shut the door" so you don't interpret/hear the pain. Distraction from pain is another; if you concentrate on something else, you change what the brain is attending to. How you think about pain is another way, if you use some of the alternative classifications we were talking about earlier, like sore or productive discomfort, your interpretation of the signal is altered to either be more tolerable, a good experience, a reparative experience, or similar, instead of just having pain.
Your interpretation can also affect how treatments work. If you think the medication is going to help, it's much more likely to. If you think the massage is going to hurt or make it worse, then likely that will be the outcome. Your brain is very powerful. Ever heard the phrase, "mind over matter?" This is mind over body. However, you want to use your right brain and body, which is experiential, to be the controller and tell the left, interpreter brain how you want it to classify and how you want it to behave the next time this same stimulus comes up. If you tell it to run the stress-trauma program you will have higher pain levels, more muscular tension, more misalignments, and more negative thoughts associated with the experience. If you tell it to run the healing program, you will have lower pain levels, faster healing, less muscle tension and misalignment, fewer compensations, and positive thoughts associated with the experience.
Which sounds more supportive and helpful? All of the psychological stuff I've read indicates that positive thought, positive reinforcement, positive actions all result in bigger, stronger, faster, better. That sounds better than the stress-trauma program, where stuff hurts more and heals slower.
As you move into changing how you view pain, you can change your expectations of healing. If you think something will heal quickly, then there's a good chance it will. If you think that your tools in your toolbox will be right for the job, chances are they will be. If you have exercises, stretches, activities, and body communication in your toolbox you have a great chance of healing quickly. As you begin to understand what is happening in your body that's resulting in a pain stimulus, what should actually be happening, how to listen to your body and what it's telling you it needs to heal, and setting your mind's classifications and interpretation you set yourself up for success.
Chris was dealing with chronic pain, mostly from past injuries that had not been addressed, which resulted in significant body pain (everywhere).
Download


Copyright Disclaimer:
This site does not store any files on its server. We only index and link to content provided by other sites. Please contact the content providers to delete copyright contents if any and email us, we'll remove relevant links or contents immediately.